The Boy Friend
(1971)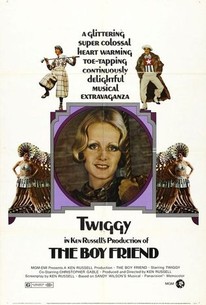 Movie Info
The Boy Friend began life as Sandy Wilson's small-scale pastiche of British musical comedies of the 1920s. When the play was brought to America in 1954, its star was the teenage Julie Andrews. Because The Boy Friend requires a minimum of sets, props, and costumes, it has become a favorite of amateur theater groups throughout the world. But director Ken Russell, notorious for his onscreen excesses, abandoned the film's simplicity. He fashioned a humongous parody of the Busby Berkeley film musicals of the 1930s, staged on a scale that made Berkeley seem stylistically modest. Fashion model Twiggy plays Polly Browne, an aspiring musical comedy star, working as stage manager of a production of The Boy Friend. She is transformed into a star when she replaces leading lady Rita Monroe (Glenda Jackson, unbilled), who twists her ankle seconds before the curtain goes up. Before the evening is over, Polly is scampering over outsized sets, and ducking around seemingly thousands of chorus girls and boys. Christopher Gable, who plays Polly's on-stage leading man, also choreographed the lavish musical numbers. ~ Hal Erickson, Rovi
Critic Reviews for The Boy Friend
Audience Reviews for The Boy Friend
½
Leave it to Ken Russell to direct a movie about putting on a play which is being being considered to be optioned as a movie while simultaneously being performed both on stage and in the actors personal lives. I adored this movie, it left me with a huge smile on my face for two hours. Ken Russell is my favorite for pretty much every reason in this film- the consistent style that never lets up and only gets more intense, dazzling visuals/costumes/makeup/sets/camera work, his indulgence in what he likes that borderlines on too much but always manages to save itself from becoming stale, a great sense of humor and iconic actors going over the top but to perfection. Twiggy is perfect in this role and fascinating to look at at every turn. Tommy Tune also steals the show.
Jenna Ipcar
Not easy to find, but well worth it for musical fans. The film is worth seeing for the amazing set and production design. Not to mention and fun cultural moment of Twiggy still in her prime. Fun and imaginative stuff.
Matty Stanfield
a treat for musical fans, the restored version of flamboyant director ken russell's '71 homage to busby berkeley films, starring twiggy! the film is a bit long, including even an intermission, but it's marvelous flights of fantasy entertained me more than anything i've seen in awhile. russell uses the device of a play within the film, a cheap production mounted by a down and out theater troupe, with the time worn gimmick of the understudy going on for the injured star, a la ruby keeler. 60s supermodel twiggy had admirable screen presence and was a great dancer. an absolute delight. thx tcm!
Stella Dallas
Super Reviewer
The Boy Friend Quotes
There are no approved quotes yet for this movie.
Discussion Forum
Discuss The Boy Friend on our Movie forum!