The Brain That Wouldn't Die
(1962)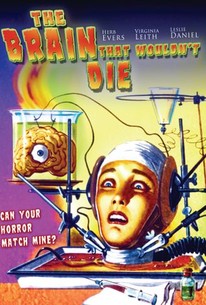 The Brain That Wouldn't Die Photos
Movie Info
When a wild-eyed surgeon accidentally decapitates his pretty fiancee in a car accident, he rushes her head to his secret laboratory, where he connects it to a flimsy-looking life-support apparatus and sets out immediately to find a suitable body in various strip-clubs and girlie shows. Meanwhile, the revived head is busily conspiring telepathically with a grunting "thing" locked away in the closet, planning revenge on her mad-doctor boyfriend.
Critic Reviews for The Brain That Wouldn't Die
Audience Reviews for The Brain That Wouldn't Die
½
Against her will, a scientist searches for a body for his decapitated fiancee. Deranged b-movie full of sleaze, mutants, cheap gore, purple prose, and general insanity. A gold mine for bad movie fans, but others may find the nonstop outrageousness makes it watchable. "Like all quantities, horror has it's ultimate; and I am that."
½
Of all the movies I've been seeing lately of this type that had any potential of being a classic, I think The Brain That Wouldn't Die probably has the most potential. If they had shifted the story around a bit instead of just playing all of the scenes in order, it could have been more interesting. For instance, if the girlfriend was already a head in a pan at the beginning of the movie, it would have given the mad scientist a stronger motivation throughout the film. Or maybe I'm just overthinking things here. Yes, it's poorly acted, constructed and just really isn't very good at all, but there's a spark of creativity here that I thought could have been made better under different circumstances and with the right people behind it. Maybe that's just me. It's also interesting to note that the cut of the movie I saw is the uncut version, which features a few extra shots of a cat fight and a couple of gore shots that were taboo at the time and subsequently cut from the movie. Overall, it's intriguing, but fails to really capture the imagination displayed on its wonderful poster.
Tim Salmons
Super Reviewer
The Brain That Wouldn't Die is a perfect example of what a B-Movie is: Boring script, slow pacing, and actors that make Tommy Wiseau look good. Now, the film is important to those that have loves for anything science fiction related, but not much else. Now, do I recommend this film? Only if you either love B-movies, sci-fi. For the rest of you, I suggest you watch the film on the show called: Elvira's Movie Macabre. It makes the film a little less painful.
Zach Brehany
Super Reviewer
The Brain That Wouldn't Die Quotes
There are no approved quotes yet for this movie.