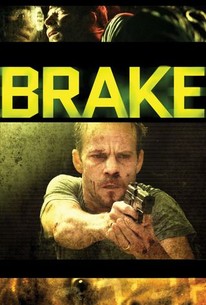 Brake
2012, Action/Mystery & thriller, 1h 32m
27 Reviews
1,000+ Ratings
Where to watch
Rent/buy
Buy
Rate And Review
Movie Info
A federal agent (Stephen Dorff) is taken captive by terrorists who want to know the location of the U.S. president's secret bunker.
News & Interviews for Brake
Audience Reviews for Brake
You remember that movie Buried? You know, the movie that this one ripped off for its concept. Perhaps ripping off is too harsh of a term. Maybe this film had already been in development for a while, maybe even before Buried. It could've been that Buried's critical success, not commercial success unfortunately, opened the doors up for this film to be financed. The point is that, maybe through no fault of their own, this film will inevitably be compared, unfavorably, to Buried. First things first, Stephen Dorff clearly put himself through hell for this film. I can't imagine how it must be to be trapped in an incredibly confined space for hours on end. I can't really imagine how hot it must've been, though I'm sure they must've had a ventilation system going so as to make sure their lead actor didn't pass out due to heat. For all intents and purposes, Dorff does a great job here. The issues come in when the script, and its story, don't really match up to that performance. Ryan Reynolds gave the performance of his life in Buried, and it was needed in order to believably sell that story, but on top of that you had dialogue that was covered with suspense and tension. They were fighting against the clock in that movie, and the way that movie built, it made that concept work. It really felt like a race against time in order to save this man in this horrible situation. The longer he went, the more his chances to survive diminished. This film doesn't really have that, whether it be budgetary limitations or whatever. This film just doesn't have that same kind desperation, that same kind of 'we're running out of time'...even though one of the film's main visual concepts is the big clock counting down. There's no real hurry or importance to what's going on. Dorff makes it work for the most part because of his performance, and I think he makes the film watchable at best. Of course that's not even touching the ridiculous ending, which I'm DEFINITELY gonna talk about. The film falls victim to wanting to be one step ahead of the audience and I think it comes back to bite them in the ass. The film has two twists. The first twist actually works, in a way. Ok, I'm not even sure how I'm going to talk about this without spoiling it. So fuck it, I'm gonna SPOIL it. Skip ahead if you don't want this ending ruined. Basically, the first twist amounts to everything Jeremy was a part of, was actually a training exercise to see if he would, or could, handle the pressure of the situation and not give up important information about the President's whereabouts during terrorist attacks. It works because, with the government being as secretive as they are, it wouldn't surprise me if these types of exercises already exist. Pushing agents to the limit to see if they can handle the heat. If this had been the REAL ending, it would cheapen everything Jeremy went through...but it somewhat works. The second, and real twist, is the fact that making everything look like it was a training exercise, even down to hiring 'actors' to pretend to be the truck drivers, the 911 operator, the man he sees through the hole in the trunk walking his dog, Henry, and even his own wife, was fake. It was something to throw Henry off his game to, somehow, get him to loosen up and finally reveal the location of Roulette, the bunker the president hides in during terrorist attacks, a location that changes every so often and only a few people are ever aware of its location. Let me get this straight...this group of terrorists went through the trouble of staging this very elaborate hostage situation. Hiring actors to pretend to be people that are helping Henry, the truck driver and the 911 operator, for what exactly? Why would they go to this much trouble? It's absolutely preposterous. I'm not even sure what they were counting on, because for all they know Jeremy, when having gotten out of the trunk, wouldn't have ever given up the location of Roulette. What would they have done then? It's so needlessly, and by extension stupidly, elaborate that you have to wonder what the real purpose of it was. It's not hard for me to believe that the CIA, or whatever government agency you want, would plan these secret training exercises in order to see if one of its agents is up to the incredible demands, or pressures, of the job. That's not hard to believe at all. But when you go one step further and the secret training exercise is just a red herring for the real twist, that's when problems start. The logic of these villains start to fall apart. You realize how much meticulous planning this would actually take. Hoping that, somehow, Jeremy would slip up and reveal the location after he's told it was a training exercise. How can they count on that? The film falls apart because of this. There's no logic, no reasoning behind this. Well other than the fact that the filmmakers can say that they got one "over" on the audience by staying one step ahead. That may very well be so, but to stay one step ahead they had to dumb down what was actually, until that point, a decent movie. Being one step ahead by taking two steps backward isn't really being ahead, but if that's what they want to believe then so be it. Stephen Dorff worked hard, but this film's worst enemy was itself. Watch and you'll see what I'm saying.

An intense and terrifying thrill-ride that will leave you breathless. It's a vastly original and gripping movie that is more thrilling than Buried and more shocking that Phone Booth. A surprisingly well-crafted and tremendously performed film. It's an exciting and nail-biting edge of your seat thriller. A terrifically entertaining and sensational movie that's filled with sizzling suspense and a double-twist ending you got to see to believe. Director, Gabe Torres knows how to build up the tension and grab you in its most gripping moments. It has you going right to it's heart-pounding and mind-blowing finish. Stephen Dorff is a tour de force, he gives his best and most compelling performance yet. This and Officer Down really showed me that he still has what it takes to be a star.

Horrible horrible twist..... One of the most foul mouthed movies I've seen, most of the elements in the plot did not make any sense, acting was only OK, and honestly, who on earth would have this kinda of intense training where they physically hurt you??? No sense has been made, I would interrogate the prisoner, not put him inside a box.
See Details