The Bravados
(1958)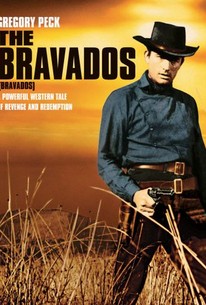 AUDIENCE SCORE
Critic Consensus: No consensus yet.
Movie Info
Brooding Gregory Peck arrives in a small western town to witness the hanging of the men whom he holds responsible for the murder of his wife (they've been arrested for an unrelated crime). Through the help of a duplicitous executioner, the gang escapes--taking Kathleen Gallant as hostage. The vengeful Peck hunts the fugitives down and kills them in cold blood. He is forced to ask himself if he's any better than the criminals when he discovers that the fugitives, though justly convicted of murder, had nothing to do with his wife's death. The Bravados is as grim and compelling as the earlier Henry King/Gregory Peck western The Gunfighter. And yes, that's "Curly" Joe DeRita, of Three Stooges fame, in the role of the menacing hangman. ~ Hal Erickson, Rovi
Critic Reviews for The Bravados
Audience Reviews for The Bravados
½
Gregory Peck plays Jim Douglass, a relentless man bent on avenging the rape and death of his wife by four outlaws six months earlier. He follows them to a small town where they were going to be hung for their evil deeds. Whilst there me meets a former gal pal, Joan Collins (Josefa), who is still madly in love with him and has never married. Naturally, things go wrong: the bad guys escape, taking a young female hostage (Kathleen Gallant) with them and Douglass sets off, with the posse, to recapture them although Douglass is set upon dispensing summary justice if possible. And that he does to three of the bravados, but when catching up with the fourth, the Indian Lujan (Henry Silva), Douglass discovers that his vengeful mission has been seriously flawed from the get-go. Lee van Cleef portrays one of the bad guys in his usual eye piercing style. Peck does an admirable job of portraying a steely-eyed, single-minded 'hunter' hell-bent on vengeance against all cost and Joan Collins wasn't half bad as the rekindled love interest. The leering Stephen Boyd is also memorable as Bill, the psychotic outlaw ready for rape and murder any time it suits him.
The Bravados started out really good.I expected to add it to my Best Western list & go out & look for it on DVD but towards the end it just lost it's steam & became an ordinary Western.I hate it when that happens!
Brody Manson
Super Reviewer
Solid western with Peck as conflicted man who almost becomes amoral killer. Joan looks lovely and for the most part is good in a sketchy role.
The Bravados Quotes
There are no approved quotes yet for this movie.