Break Point
2014, Comedy, 1h 30m
21 Reviews
1,000+ Ratings
What to know
critics consensus
Like an old pro playing an outmatched opponent, Break Point scores some solid points -- even if it never bothers to break a sweat along the way. Read critic reviews
You might also like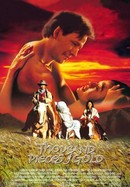 Rate And Review
Movie Info
A rough around the edges tennis pro is making one final crack at a major doubles tournament. Due to his drinking and on court attitude, other pros shy away from being his partner. He'll have to ask his younger brother for help if he wants to succeed.
Critic Reviews for Break Point
Audience Reviews for Break Point
There's nothing about this movie that's gonna revolutionize the sports movie genre. Then again, there's hardly any sports movie that's gonna revolutionize that particularly genre, unless there's something really out there, conceptually, that I haven't seen before, sports movies are generally bound by cliches and the limitations of the sport they're representing, as it were. I haven't seen many tennis movies, as if they're really that many that are notable or memorable, but I will admit that this is a pretty good one all things considered. One of the things I liked about it is that the film isn't about this big tennis tournament, it's the qualifiers to get to the Open, and I'm not even sure it's that big of an Open anyway. Often, so many of these films focus on a team or an individual, in the case of boxing or golf (not a real sport) films, overcome a variety of obstacles, betrayals, etc in order to win this big and important tournament or championship. This movie is much more smaller scaled and I don't have a problem with that, since it's far more believable and easy to buy into. Not that this movie is completely realistic or anything like that, but its approach is certainly appreciated since it makes it easy to get into the characters. But I digress, I thought the movie was well-written, it was funny and the characters are likable and the acting is more than solid. Jeremy Sisto is really good in this movie. I'm not saying that you expect an actor to be incapable of playing certain roles, but, from what I've seen of Jeremy, this is a bit of a change of pace from what he normally does and he's really good at it. He's a funny dude and I'm sure he showcased that in shows like Suburgatory, which I honestly haven't seen, but he doesn't get to show it much in films. He has great chemistry David Walton, who plays his brother in film, which was essential in telling this story. They did a good job at making you believe that they were brothers. There's also some good character development involved with them and how Jimmy turned pro and joined up with another guy and did everything his brother wanted to do but never got around to doing. So at least there's some sort of development between them. Not like it's all complex or super detailed, but it is something. Both Jeremy and David, at the very least, look like tennis players. They don't look like great tennis players, which is part of what the film is trying to achieve, so I thought that was beneficial to the overall quality of the film. Didn't add a lot, but it added something, like you can tell they're not great tennis players and that they probably had no real chance to win in the Open, if they even classified for it. But, like I said, the movie is well-written, but not outstanding, it's not like it rises above the genre cliches. Nor does it even attempt to. Which is fine, really, I didn't mind as much because I did enjoy the movie. It's just that sometimes you wish that they'd do something a little more out of the box. And it's not a problem with this film specifically, just with the entire genre in general. But, with that said, I still found the film highly enjoyable. It's good, at best, but I still enjoyed it a lot. Good cast and solid writing, so I can't complain much. Pretty good movie that's easy to watch. I'd recommend it if you have Amazon Prime. It won't amaze or dazzle you, but it will entertain you.
Quotes
There are no approved quotes yet for this movie.