Breaker! Breaker!
(1977)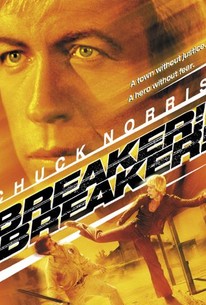 AUDIENCE SCORE
Critic Consensus: No consensus yet.
Movie Info
A typical Chuck Norris vehicle from the late '70s, Breaker! Breaker! is neither the first nor the last Hollywood attempt to translate the wide appeal of trucking into big-screen profits. Alhough, it is probably the least successful. In this "modern" Western, a small California town is ruled by the nefarious Judge Josh. Using CB technology, the Judge and his gang of henchman lure wayward truckers into their town in order to do them bodily harm. Eventually their evil ways catch up to them in the form of J.D. Dawes (Norris), who comes in search of his brother. What he finds, however, is nothing a little Tae Kwan Do and a case of dynamite can't fix.
Critic Reviews for Breaker! Breaker!
Audience Reviews for Breaker! Breaker!
Breaker, Breaker is the touching story of the love two brothers share for each other, and the lengths one will go through in order to see... ehhhh, who am I fooling? This is a movie soley about Chuck Norris kicking in teeth. He's a truck driver you see, though not just a truck driver. He also is champion arm wrestler, karate fighter, and meditation instructor (known for wearing gold lame collars). His younger brother is also a truck driver (though he looks about 16), and one day he foolishly wanders into a town full of wanton corruption. When he tries to fight back, he winds up missing, and it's up to Chuck to get him back (sounds more serious than it is). The town, a location that looks eerily like an old west studio lot the Brady Bunch once visited, seems to specialize in dirt, because every single resident to a tee is covered in the stuff. As soon as Chuck gets there, he immediately tries to acclimate himself by rolling around in the dirt and dust (allegedly in an attempt to be "sneaky") as a means, I suppose of tricking the townsfolk he's just one of them. It doesnt' really work, except with a cute mama and her kid (who later in the movie will be fondled by the town's drunken judge). At this point, Chuck Norris beats up all the menfolk of the town (while all the ladies watch on, dreamily), and it's as funny as it sounds. Chuck though, shows no emotion as he throws kicks left and right. One thing that bothered me about this movie though, is how the cops threw up speed traps in a town that didn't seem to have any actual roads (though Chuck still manages somehow to drive his bad-assed van with the eagle's head painted on the side everywhere, seemingly incognito). The town's judge is probably the most interesting and over-the-top character: he's a cross between Boss Hogg and a creepy version of Brando's character in "Apocalypse Now". When he's not groping little boys, he's teaching crazy doll ladies to play chess. Also, when Chuck Norris gets shot in the stomach, it doesn't slow him down so much as mildly annoy him. In the end (SPOILER ALERT!), the truckers ride into town and RUN OVER THE ENTIRE TOWN IN THEIR BIG RIGS. **** for the laugh value, * for the film-making quality
Devon Bott
Super Reviewer
One of Chuck Norris's earlier and more embarrassing films, though it is an actual martial arts movie unlike Good Guys Wear Black.
Dean McKenna
Super Reviewer
Breaker! Breaker! Quotes
There are no approved quotes yet for this movie.