The Bride
(1985)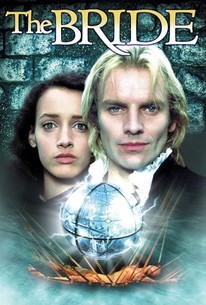 Movie Info
The Bride is a loose remake of the 1935 horror classic The Bride of Frankenstein. Sting plays the Colin Clive part, an obsessive scientist who wants to create a bride for his stitched-together creature (Clancy Brown). A few lightning bolts and unwrapped bandages later, out pops Jennifer Beals. Sting is so entranced by his synthetic sweetie that he claims her for himself, much to Brown's dismay. Destroying the lab and escaping into the outside world, Brown is befriended by enterprising dwarf David Rappaport. Together, monster and dwarf become top circus attractions, but before long Brown again crosses the path of Beals.
Critic Reviews for The Bride
Audience Reviews for The Bride
½
The familiar story takes an interesting if slow divergent path in this update of Whale's classic. Beals and Sting do as well as they can with underwritten material while the Monster, ably played by Clancy Brown and touching on some of Karloff's tender renditions, makes a friend (David Rappaport, perhaps the heart of the piece) and joins the circus. A surprise.
Kevin M. Williams
Super Reviewer
½
Dr. Frankenstein builds a mate for his creation, but instead decides to turn her into a feminist icon (!), so the original monster leaves to join the circus with a dwarf (!). Pointless and ridiculous "remake" of THE BRIDE OF FRANKENSTEIN.
Christ I keep wondering why make many Remakes over the years though I have to admit this Remake was a guilty Joy.
The Bride Quotes
There are no approved quotes yet for this movie.