Bride of Re-Animator
(1990)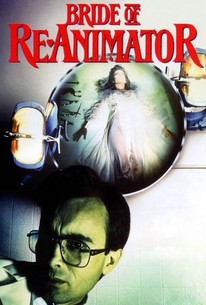 Bride of Re-Animator Photos
Movie Info
Two exiled scientists hide out in Peru in order to perform their unorthodox experiments in returning the dead to life in this sequel to the H.P. Lovecraft-inspired cult horror favorite The Re-Animator. Soon, the tests of the serum have unleashed a number of terrifying zombies of all shapes and sizes.
People Who Like this movie also like
News & Interviews for Bride of Re-Animator
Critic Reviews for Bride of Re-Animator
Audience Reviews for Bride of Re-Animator
½
It is clearly meant to be a reference to Bride of Frankenstein but the script is stupid and makes very little sense considering what happened in the first film. Still, Jeffrey Combs and David Gale steal the scene and the movie has some nice moments of gory humor.
Carlos Magalhães
Super Reviewer
½
** out of **** "Bride of Re-Animator" is a nearly bad movie saved by a few inspired moments of intended lunacy. A sequel (and somewhat of a re-hash) to Stuart Gordon's "Re-Animator" - which was an adaptation of the stories concocted in H.P. Lovecrafts "Herbert West-Reanimator" - the film feels more like a test of patience (and taste) rather than successful horror-satire. While its predecessor reaches the level of brilliant, appealing (?) trash; the sequel seems to drag on-and-on; forever attempting to find a point to exist, and never quite finding one. Is it a bad film? No, in theory; this doesn't quite qualify as one. It's a film of many bad moments, many missed opportunities - yes - but it's also better than a lot of horror sequels out there. In some respects, I can say I respect it. "Bride of Re-Animator" is what it is; and if you watched the first film in the franchise for the gore effects alone - and not the sharp satire or refreshingly over-the-top acting - you probably won't be too disappointed by what this one has to offer. Still, it pales in comparison to Gordon's original. This sequel finds mad scientist Herbert West (Jeffrey Combs) and his partner-in-crime Dan Cain (Bruce Abbot) returning for another go-round with West's experimentations in the reanimation of human body parts and full corpses. The concept still remains fascinating and intelligent; although at least in "Re-Animator" it felt new and fresh, while here it feels slightly recycled, and not in a particularly good way. Anyways, I'm drifting; Herbert and Dan are moved from Peru back to Arkham, Massachusetts; where they resume their roles as doctors at Miskatonic University Hospital. Both men are ready to put the events of the first film behind them; even if the fellow doctors and medical students are much less accepting. Nonetheless, Herbert and Dan settle in a house-by-the-cemetery and make themselves at home. For a while, I was wondering: what happened to Dan's girlfriend Megan? The ending of "Re-Animator" was a genuine cliff-hanger; we were left to wonder whether Herbert's infamous serum would revive her full-time, or if it was too late. Apparently, it WAS too late; she doesn't even make an appearance in this film, and Dan has a new love interest; an Italian beauty named Francesca (Fabiana Udenio). But of course, Herbert is feeling a bit lonely himself; and his latest experiment is so create a mate. A "bride" for the re-animator. He shall complete his creation with the heart of Dan's former girlfriend, the legs of a hooker, and various other body parts as well. Meanwhile, a snooping police officer (Claude Earl Jones) has his suspicions about West; most of which are derived from the deranged madman's peculiar past. This same officer soon meets the re-animated head of Dr. Hill (David Gale) - who is out for blood after having suffered through the events of the first film; forgotten, and neglected. "Bride of Re-Animator" may be short on depth, winning satire, and wit; but it certainly isn't short on blood, gore, and special effects! If it all comes down to visual detail, the sequel to "Re-Animator" is a goddamn master-class freak-show; although since it never quite comes down to that, it feels unpolished and unfinished. That isn't to say that all will feel the way I did; some might settle for the gory make-up effects alone, because they are undeniably impressive on their own right. And of course, the satire might work for those people too; I just wish it had for me. As always, Combs is very convincing as Herbert West; although even here, his performance feels slightly inferior to the one in "Re-Animator". It's still over-the-top, and it makes for one of this sequel's few key pleasures, but there's an ingredient missing; and it's pretty darn critical. But at the end of the day, "Bride of Re-Animator" is a mixed bag of the good, the bad, and the ugly. Whether it's messy methods of storytelling and style-setting work for you or not really depends on your personal tastes as a film-goer. While I'm no doubt the kind of viewer who can sometimes just sit back and enjoy the campy, gore-happy ride; this one just didn't impress me a whole lot.
Ryan Marshall
Super Reviewer
½
Just as crazy and hilarious as the first, Jeffrey Combs is amazing. I love how he can come across as nuts, smart and funny all in one. The plot was really good, it kept you involved the entire time. I think what made it such a good follow up is that it gave you everything you loved from the original and enhanced it. The ruthless and gross out gore was done oh so classy.
Conner Rainwater
Super Reviewer
Bride of Re-Animator Quotes
There are no approved quotes yet for this movie.