Brides of Blood
(1968)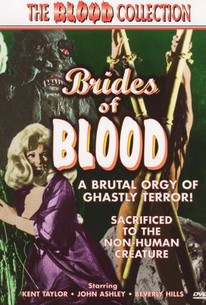 AUDIENCE SCORE
Critic Consensus: No consensus yet.
Movie Info
The Philippine splatterfest Brides of Blood has also been released as Brides of the Beast, Island of Living Horror and Grave Desires. You get the idea. Anyway, the resident monsters are the spawn of nuclear radiation. These horrid creatures prey upon beautiful, undressed women; they have sex with their victims (by consent!), then gobble up the poor girls. John Ashley, an American actor who was a mainstay of the Philippine horror industry of the 1960s, tries to stem the monster uprising, along with dedicated scientist Kent Taylor and his onscreen wife, Beverly Powers, played by well-proportioned heroine Beverly Hills.
Critic Reviews for Brides of Blood
There are no critic reviews yet for Brides of Blood. Keep checking Rotten Tomatoes for updates!
Audience Reviews for Brides of Blood
this films plot is actually quite good,it has that certain low grade charm,which had me sucked in right away when scientists on a remote pacific island mentioned they were in search of mutated life forms caused by the bomb testing in Bikini..cool/shitty fx, tropical plants which attack bad acting humans, and a goofy looking monster add to the flavor of this late 60's filipino gem. LOTS of fun. it is the second film in the "Blood Island" series,but this film is actually unrelated to the other two..the third was a sequel to the first.
drain bamage
Awesome, awesome and awesome. A cool monster, a great cast and man eating trees in the Phillipines. This film has everything I"ve ever wanted. I got the Blood Island Vacation boxset and I can't wait to see the rest.
Christopher Brown
Super Reviewer
½
A noxious pile of shite. The acting is so bad it's not even laughable, especially from the leading lady (whose sole qualification is that she's a busty blonde who can deliver her lines in a sultry monotone when she's not screaming). The film does try to distract you from the acting however, by the sheer technical ineptitude of its out-of-synch soundtrack. Perhaps the sultry monotone isn't even 'Beverly Hills' real voice, because all the actors look and sound as if they've been dubbed by equally hopeless voice actors. It also gives us dramatic playing of an out of tune piano. Then there's the cardboard and rope special effects, and a rubber monster suit that even early series' of Doctor Who would be ashamed of. Let's not even mention the script or the dialogue. B-movies can be very entertaining, but for me this is not one of them. I had more fun writing this review than I did watching the film.
Brides of Blood Quotes
There are no approved quotes yet for this movie.
Discussion Forum
Discuss Brides of Blood on our Movie forum!