Brigsby Bear
(2017)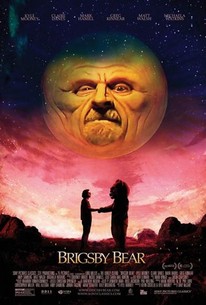 TOMATOMETER
AUDIENCE SCORE
Critic Consensus: Audiences attuned to Brigsby Bear's strange frequency will be moved by its earnest -- and endearingly original -- approach to pop culture's impact and the creative urge.
Movie Info
Brigsby Bear Adventures is a children's TV show produced for an audience of one: James (Kyle Mooney). When the show abruptly ends, James' life changes forever, he sets out to finish the story himself and must learn to cope with the realities of a new world that he knows nothing about.
News & Interviews for Brigsby Bear
Critic Reviews for Brigsby Bear
Audience Reviews for Brigsby Bear
One way to stand out in a crowded marketplace is to differentiate your movie by making it weird and whimsical. Just being different can grab your attention, and Brigsby Bear and Dave Made a Maze are definitely different. Both of these indie films attracted attention for their unusual concepts and lo-fi designs, banking on a sense of nostalgia for a homemade style of art that's a little rough around the edges. These might be two of the strangest films that will be released in 2017. James (Saturday Night Live's Kyle Mooney) is living underground with his parents, April (Jane Adams) and Ted (Mark Hamil). He does his homework, listens to his parents about never going outside, and anxiously waits every new episode of Brigsby Bear, a children's fantasy TV show starring a Teddy Ruxbin-looking bear that teaches life lessons. Eventually we discover that April and Ted are not, in fact, James' parents. They abducted him when he was a baby. The FBI raids their compound and returns James to his biological family, the Popes (Matt Walsh and Michaela Watkins as mom and dad, Ryan Simpkins as younger sis). James just wants to know when the next episode of Brigsby will come out. Unfortunately for James, Brigsby isn't real. Ted produced the show on a nearby sound stage. He'd even occasionally hire other actors. James is the world's most knowledgeable fan of a TV show no other person knows one iota about. He's determined to give it a proper ending and recruits family, friends, and neighbors to make the ultimate Brigsby movie. I was pleasantly surprised at how effectively Brigsby Bear was at being cheery and sincere. I was expecting, given the premise, an ironic riff on nerd culture or obsessive fandom, and Mooney and company instead decided to play things very seriously. They take a fantastic premise that seems begging for derisive commentary and choose to find a human story within the absurd. That's much more commendable and harder to achieve. As I'm aging, I'm becoming more and more appreciative of sincerity over irony (part of this is also that our modern age is inundated with irony). I was reminded of last year's Swiss Army Man, an alarmingly strange movie with Harry Potter's farting corpse and went for sincerity without any whiff of detached irony. Brigsby Bear isn't at the same level of artistic accomplishment and lasting power as Swiss Army Man, but it's an unconventional and touching movie that earns its quirky-yet-feel-good emotions. It's easy to see where this story could have exclusively dwelt in psychological darkness. James was abducted as a child and raised in a strange environment that makes him emotionally stunted and grossly ill prepared for the real world outside his reclusive safe space. The movie could have understandably dealt with James' crippling sense of loneliness, betrayal, and inability to assimilate since his sense of self were cultivated by a fake children's TV show. He could have easily been the creepy oddball who makes people uncomfortable. Instead, they made him the goofy oddball who makes people smile. His childlike sense of wonder is in tact and frees him from self-doubt. James is remarkably cheery for having his world turned upside down, and the movie follows his lead. This movie could have been another perplexing Dogtooth and instead it's more accurately reminiscent of those old Mickey Rooney "we're putting on a show" pictures. I was waiting for a moment of artificial conflict, a darker plot turn late into the film where perhaps it's revealed that Ted was a molester. There's 700 episodes of Brigsby Bear so I figured a few of them would reveal disturbing clues about something even worse. The film never does take that darker turn and instead stays upbeat to the very end. As he adjusts to his new home, the movie serves as both a delayed coming-of-age movie and a love letter to the power of creativity and how it can build community. With James transported into the outside world, much is made over his awkwardness with human interactions and his complete lack of guile. He gets his first kiss with a girl, and shortly after his first handjob, and wonders if that means they have to get married. It's a sweetly naïve reflection. We watch the growing pains of James as he starts to make friends and become more confident in himself, which is a surefire way to win over an audience. James isn't held up for ridicule. People want to be part of his project. He's overcoming adversity and triumphing through the transformative power of art. There's a joy in watching characters find themselves anew, and James serves as the catalyst. This person knows how to do special effects. This person used to act when they were in college. In his heartfelt attempt to provide closure to the Brigsby series, and possibly a chapter in his life, James' project takes on a life of its own that brings people together. It shows how the community of art can be an empowering venture that can freely inspire the best in others. The movie doesn't become overly reliant upon nostalgia either. I figured it would be an ode to 80s television and culture but it really just uses that as backdrop. The world building of the show of Brigsby is bizarre and entertaining every time it's included, especially when you comprehend the propaganda messages that Ted is sneaking in like, "Curiosity is an unnatural emotion." The sense of wonder and whimsy doesn't overwhelm the movie and its poignancy. Director Dave McCary (Saturday Night Live) makes the most of the retro pastiches while still serving the story. James could just have easily been obsessed with any show or ongoing work of art. The content of the show is unimportant. It's about facilitating his growth into a person comfortable and confident with whom they are. By the end of the film, I was fighting back tears as the full assembly of characters watches the finished product of their labor. You watch them smile, laugh, take a sense of pride in their communal efforts, and they can see the world as James does. It's a whole-heartedly pleasurable movie with surprising currents of emotional uplift. Whimsy is a fleeting feeling that's hard to conceive and harder to hold onto. Both movies take whimsical premises that cater to the peculiar but only one delivers something of lasting substance. Brigsby Bear is a charming, heartfelt, and exceedingly sincere movie about an oddball finding his place in the world through the power of the creative process. He is transformed through his love of art and how that serves as the foundation for community. Whereas Dave Made a Maze is a lo-fi curio that I can admire more than enjoy. It's missing crucial elements that make its journey worth the effort, beside its imaginative and scrappy production design. Both movies are charged by the power of the imagination to transport the ordinary into the extraordinary. Brigsby remembers to use its flights of imagination and whimsy to tell an engaging and ultimately touching story. Dave Made a Maze has cool sets and some infectious silliness. If you see one story of a man-child escaping into a world of nostalgic imagination and inviting friends to tag along, make it Brigsby, a film that uses whimsy to still tell compelling human stories. Nate's Grades: A-
Nate Zoebl
Super Reviewer
At first, Brigsby Bear may seem like the definition of what has come to be expected from a Sundance movie meaning films that often break out at the Park City, Utah film festival are those that include quirky characters doing things only quirky people such as themselves have time for in light of real-world tragedies and/or challenging times. Think Me and Earl and the Dying Girl or Napoleon Dynamite. By such expectations Brigsby Bear would most definitely check every box necessary to qualify for Sundance's quirkiest of offerings, but like those aforementioned films these movies still tend to succeed in their objectives because beneath the seeming pretense of being bound and determined to be as weird and peculiar as possible there is genuine heart that exists. These pictures ultimately come from a place of real emotion, of real life experiences, and have seemingly only been materialized into a full-on motion picture due to the fact the writer or writers were able to tap into a fun premise in which they could work through their feelings and thoughts. With Brigsby Bear, Saturday Night Live's Kyle Mooney and co-writer Kevin Costello seem to be coping with the fact they've actually made it to the point they can make a living by utilizing their creativity. Coming from San Diego and attending the University of Southern California it likely always felt within the realm of possibility that Mooney might be able to reach such heights, but it also seems likely he was constantly surrounded by those also attempting to make it many of which no doubt failed to achieve such ambitions. It's a double edged sword I'm sure whereas, for someone such as myself who lived in rural Arkansas for the majority of my life, achieving such success or even coming across such opportunities always felt like a pipe dream. For Mooney though, Brigsby Bear more or less cements this feeling that he's finally being let it on the inside of the joke rather than being left out in the cold or rather, that others are finally beginning to get hip to the brand of humor and personality that Mooney has possessed for some time. Either way you slice it, Mooney and Costello along with director Dave McCary (an SNL crew member) succeed in capturing the spirit of this abstract idea that is creativity and relaying not only what it means to the creator, but to those affected by it. read the whole review at www.reviewsfromabed.com
Philip Price
Super Reviewer
½
An underappreciated little gem of a movie, Brigsby Bear follows the story of a man raised in an isolated bunker for his entire life, then rescued and reintroduced into the world and trying to adjust to it. Our protagonist is obsessed with a children's program called Brigsby Bear, (which looks like a fairly typical late 80's, early 90's show on Nickelodeon) which was produced by his captors, as a way of both placating and entertaining him. While trying to adapt to his new surroundings, our hero decides to make a movie and give closure to both Brigsby Bear and himself. Brigsby succeeds mostly because it doesn't rely upon too much of the typical fish-out-of-water tropes as you'd expect. It instead opts for a good-hearted approach and focuses on the growth of its main lead. Kyle Mooney is mostly known for comedic work and you have to admire how he chooses to play his character straight - giving him an earnestness that come off as charming to both other characters and the audience. Several other supporting performances impress, but the most notable was the brief role assigned to Mark Hamill. Despite his arguably villainous backstory, he gives small tragic hints in his speech patterns to make him a relatable character. As for what this adds up to beyond a quirky indy drama that did well at Sundance, I'd have to say that it touches a bit on the restlessness and stunted developmental growth of both Gen X and yes, those damned millennials. The main character was literally raised in the nostalgia culture of the late 80's and his attempts to recreate it do more than help his cope with trauma -- it teaches him a valuable lesson. YOU CAN'T GO HOME AGAIN. I don't quote Thomas Wolfe lightly there - it's a lesson many man-children in recent years have either come to accept or have yet to learn. That, or Brigsby is just about Napoleon Dynamite trying to become a talking bear. Download it. Rent it. I don't care. See it.
Joshua Sheetz
Super Reviewer
Brigsby Bear Quotes
There are no approved quotes yet for this movie.
Discussion Forum
Discuss Brigsby Bear on our Movie forum!