Bring It On Again
(2004)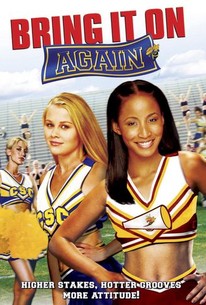 AUDIENCE SCORE
Critic Consensus: No consensus yet.
Movie Info
Whittier (Anne Judson-Yager) arrives at the fictional California State College hoping to join the national champion varsity cheerleading team. She meets up with her friend from cheerleading camp, Monica (Faune Chambers), and they're both impressive at the tryouts. Head cheerleader Tina (Bree Turner) is ready to ask them to join the team, but Dean Sebastian (Kevin Cooney) goes a step further, telling Tina that Whittier will be the next head cheerleader. This angers Tina's pal Marni (Joie Lenz), who had the position staked out, but Tina goes along with the plan, taking Whittier under her wing. Whittier meets Derek (Richard Lee Jackson), a campus deejay who immediately takes a shine to her. But Tina is very demanding and controlling. She warns Whittier that Derek is not the type of boy she should be dating. Monica is bothered by Tina's meddling, but Whittier momentarily lets her cheerleading ambition get the better of her, and breaks it off with Derek. Then Tina, upset with Monica's sassy attitude, forces Whittier to choose between her friendship and the squad. Whittier and Monica get fed up and quit the team, but Whittier's school spirit cannot be suppressed. With Monica's help, she gathers up the outcasts from the drama club, the dance club, and other groups that have lost their funding and forms a ragtag squad of her own, determined to battle the varsity squad for a spot at the national championship. Directed by Damon Santostefano (Three to Tango), Bring It On Again was released straight-to-video; aside from its subject matter, it has no direct connection to the original Bring It On. ~ Josh Ralske, Rovi
News & Interviews for Bring It On Again
Critic Reviews for Bring It On Again
Audience Reviews for Bring It On Again
A decent sequel that doesn't straight out copy its predecessor. The cheers aren't as good and the characters aren't as likable or interesting, but it holds its own.
Sophie Burgess
Super Reviewer
Not as good as the original 'Bring It On' but it was alright! Not that good!
Bethany Murphy
Super Reviewer
This is exactly what you would expect it to be. Not as good as the original, of course, no name cast, straight to DVD (I assume). Having said that, I do kind of like these movies. Though they are not exactly good, they are light, fun and I don't mind the cheerleading. I would rather that than a dance movie - those I do find tedious. Story is a bit silly and there's a sub plot with the principal that seems to get forgotten along the way, but aside from that, enjoyable piece of fluff, with likable cast, if you keep your expectations low.
Nicki Marie
Super Reviewer
Bring It On Again Quotes
There are no approved quotes yet for this movie.