Brink of Life (Nära Livet)
(1958)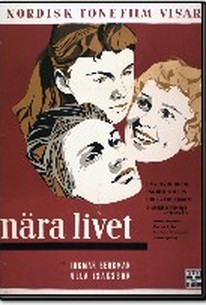 AUDIENCE SCORE
Critic Consensus: No consensus yet.
Brink of Life (Nära Livet) Photos
Movie Info
Brink of Life (original Swedish title: Nara Livet) can be described as an Ingmar Bergman potboiler--keeping in mind that a potboiler from Bergman is better than a major production from almost anyone else. Eva Dahlbeck, Ingrid Thulin and Bibi Andersson portray three mothers in a maternity ward. In the course of a few days, each woman reveals to the others their life stories and intimate thoughts. And each wrestles with the decision whether or not to keep their babies or give them up for adoption. Brink of Life was adapted by Bergman from an original story by Ulla Isaakson. ~ Hal Erickson, Rovi
Critic Reviews for Brink of Life (Nära Livet)
All Critics (2) | Fresh (0) | Rotten (2)
Set in a Stockholm maternity ward and covers the mental and physical pains of three expecting mothers.
The film has a rather surprising documentary look to it and is expertly acted, but ultimately chokes during its own confinement.
Audience Reviews for Brink of Life (Nära Livet)
½
From a cinematic standpoint, that is camera movement and lights this movie is ordinary. The screenplay was not written by Bergman and it is an adaptation after Ulla Isakson written by the same author. And yet Bergman makes this movie a magnificent analysis of the act of giving birth, I think unequaled in cinema. The action takes place in a constricted place, only indoors, so there are no long shots. However we don't feel we are missing anything, Bergamn was a master of the close-up and we get plenty of suffering caught brilliantly on film. I still have no idea how these wonderful actresses were motivated into playing at such a level of intensity. The actresses each represents a perspective on maternity. Ingrid Thulin understands that her miscarriage was the most intense and life-affirming experience she ever had and will have in all her life. She understands that her husband cannot acknowledge what she went through so she settles on a divorce. However by the end of the movie she regains hope and may give her husband another chance. Bibi Andersson plays a wonderful role as a character that fits her very well, the naive girl rich in emotions but with a very poor experience of life. She wants to get rid of her baby but by the end of the movie she is rejoined with her mother who accepts her pregnancy and we can only acknowledge what a great mother she will be. By the way Bibi herself already had an abortion in real life when she was very young, and this shows. The way she plays her part feels like it involves more than mere acting. I have seen Eva Dahlbeck in only;y two other Bergman movies, Lesson in Love and Smiles of a Summer Night, both comedies where she played the temptress in a light manner. Her role in Nara Livet is up to a point also light, she represents the optimistic view of maternity. Only how sad it is that it is her birth that is thwarted by mere hazard. However we feel that she has enough will and support from her husband (played by von Sydow in a brief role) to pull through. Overall, this may be one of Bergman's most optimistic dramas. At the end we feel that things are in order, that every character has learned something essential and that life even if it may be a dangerous business has to be looked at optimistically even if we have no idea that should be so
Cassandra Maples
Super Reviewer
Brink of Life (Nära Livet) Quotes
There are no approved quotes yet for this movie.