Broken
(2013)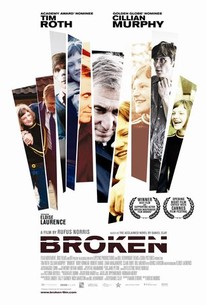 Movie Info
The summer holidays have just begun and 11 year-old Skunk's afternoons are full of day dreams and curious wanderings around her neighborhood - with the exception that she must regularly give herself injections to combat her type 1 diabetes. When, one day, Skunk (Eloise Laurence) discovers her bitter and angry older neighbor, Mr. Oswald (Rory Kinnear), savagely beating Rick, a psychologically-troubled boy from the neighborhood whom Mr. Oswald's daughter has callously and fictitiously accused of rape, Skunk's innocence begins to vanish. Trying to find solace with her loving nanny (Zana Marjanovic) and father (Tim Roth), with whom she is very close, Skunk is unwittingly drawn into her neighbors' unfolding melodrama involving violence, sex, and life-shattering illness. Her home, her neighborhood and her school all become treacherous environments where the happy certainties of childhood give way to a fear-filled doubt, and the promise of a complex, broken future. Overwhelmed by her experiences, Skunk herself is drawn into an ethereal chaos from which she may only return through the intense love of those closest to her. (c) Film Movement
Critic Reviews for Broken
Audience Reviews for Broken
An eleven-year-old girl comes of age against the violent backdrop of her neighborhood. Director Rufus Norris resorts to some cheap tricks with non-sequential narration, but the central story is pretty good. After violence erupts in her neighborhood, Skunk, wonderfully played by Eloise Laurence, wonders why adults behave with such cruelty, and her father seems to have as much understanding as she does. At its core, Broken is about violence and dread and the mystery of cruelty and prejudice. These are interesting themes, and while they're not fully realized, the film remains basically compelling. Overall, this isn't a bad film, but Norris's gimmicks wore on me, especially after he went to the same bag of tricks for the third time.
Jim Hunter
Super Reviewer
½
This is a pretty damn good coming-of-age film with some top-notch performances, great cinematography. The main problem, however, is the incredibly melodramatic last act of the film, especially when it really didn't need to be as I was already invested in the characters and the story, and the fact that the film got so dramatic at the end there really took away from what had been a great movie until that point. Yes, there's a lot of symbolism in the last 10 minutes of the film but it could've beem done in a way that wasn't as emotionally exploitative as it was. Even with that I appreciated how everything in the film seemed to play a part in the ending. I don't think any scene is wasted or used for purposes that don't benefit the climax of the film, so I'm glad the film was so focused on its story. I liked the chemistry between the cast, it felt real and organic rather than rigid and heavily scripted. That works wonders when you're trying to tell this type of story and I think the kid actors, in particular Eloise Laurence, the lead actress, really benefited from that chemistry as it made them more outgoing and genuinely feel like they were a family. The writing is solid and the story, if not particularly unique, is still well-told with a great cast to certainly help elevate that story. I was a bit disappointed with the melodrama in the third act, particularly when the film had been so great without it, but this is still a damn good movie and definitely worth giving a shot to if you have Netflix.
Jesse Ortega
Super Reviewer
The story of events going on in a neighborhood is a bit engaging, but considering the overall experience the flick offers, IMO, it's mediocre at best.
familiar stranger
Super Reviewer
Broken Quotes
There are no approved quotes yet for this movie.