Brooklyn Lobster
(2005)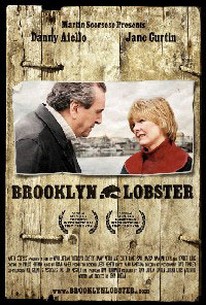 Movie Info
Aging patriarch Frank Giorgio tries to maintain his Brooklyn pride when the bank that holds the small business loan for his lobster farm forecloses. A hardworking man who listens to only oldies on the radio, Frank sees his worth as inextricably tied to his company. It is just this traditional attitude that has alienated his wife and grown-up children. Frank must temper his resistance to change and learn to express his love for his family in a more -- or less (?) -- conventional way if he is to find contentment.
Critic Reviews for Brooklyn Lobster
Audience Reviews for Brooklyn Lobster
½
Brooklyn Lobster runs the parallel story of a struggling business that is mirrored by a crumbling family. For the most part it is real and honest, and yet, for all the honesty there are times that something smells fishy (not the lobsters, 'cause they're crustaceans...ahem). What is eerie about this 2005 film is that it is prescient, having a bank foreclosure as it's main plot device. As the story tells it, the Giorgio's lobster company goes to a bank for a loan in order to build a restaurant adjacent to their lobster market. When the bank goes belly up, the FDIC steps in and demands instant repayment of all outstanding loans. The film shows the arrogance and intractability of the feds, who force an auction on the family's property rather than attempting to work out some kind of repayment plan. This sounds so familiar in so many ways to what occurred 4 years later in the real world - I guess the signs were pretty obvious to those with their eyes open. But while the bank drama plays out, there is the story of a family, headed by patriarch Danny Aiello who seems to excel at playing a tough guy with a heart. He doesn't disappoint here, all full of bluster, and yet still managing to give the impression that he is a real, feeling guy whose main failing is in thinking that working hard putting food on the table and keeping the rest of his family employed (and therefore under his thumb) is a sufficient show of love. His wife, in a so-so performance by Jane Curtain, doesn't think so, and uses the loss of their family home in the aforementioned bank fiasco to move away from Aiello. This aspect of the story isn't as fully developed as one may hope, and her ultimate declaration that throughout their marriage she was "alone" comes across as words on a page, without any real emotional underpinnings or fire - just a simple statement as if resigned to the fact of the matter. And yet, for her declaration to the contrary Curtain and Aiello seem to spend much of the film in the same frame. Also into the mix is a father son relationship that is so typical and yet in this instance comes across as real and true, which is more than you can say concerning some of the goings on in the film; from the court proceedings to Aiello's confrontation with the uncle of his son's fiancé. In the end there is a great big happy ending and a celebration that places the entire extended family together (and implies that it may just stay that way). While the ending may satisfy emotionally, going a different direction may have made for a better film. This indie film, written and directed by Kevin Jordan, is fairly well edited and paced, but suffers from some lighting and sound issues (that seem indigenous to the indie species), but overall there are a few too many superfluous scenes for its short run time, even when said scenes enhance the homey, familial feel. I feel that there was an interesting story to tell here, of a family business with all the trappings (many of which I've seen first hand), but, while good intentioned, the script utilized too many conventions and suffered from a lack of emotional depth.
paul sandberg
Super Reviewer
Brooklyn Lobster Quotes
There are no approved quotes yet for this movie.