Bulldog Drummond's Peril
(1938)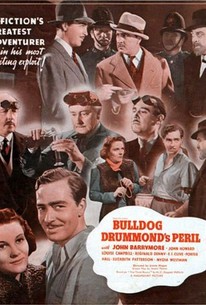 AUDIENCE SCORE
Critic Consensus: No consensus yet.
Bulldog Drummond's Peril Photos
Movie Info
Though John Barrymore is top-billed in Bulldog Drummond's Peril, the aging matinee idol is consigned to the supporting role of Inspector Nielsen. Drummond is portrayed by John Howard; once more, he is on the verge of marrying the ever-patient Phyllis Clavering (Louise Campbell). And yet again, the ceremony is interrupted by a late-breaking crime. The villains this time are trying to steal synthetic diamonds. Bulldog Drummond's Peril was the 5th in Paramount's B-picture "Drummond" series.
Rating:
NR
Genre:
, , ,
Directed By:
Written By:
In Theaters:
On DVD:
Runtime:
Studio:
Criterion Collection
Critic Reviews for Bulldog Drummond's Peril
There are no critic reviews yet for Bulldog Drummond's Peril. Keep checking Rotten Tomatoes for updates!
Audience Reviews for Bulldog Drummond's Peril
Poor Captain Drummond can never seem to make it to the aisle. In this installment, he receives a lab created diamond on the eve of his wedding. Mayhem ensues as the bad guys try to stop future production of the diamond. John Barrymore has minimal screen time. I agree with another reviewer that the penguin in a top hat and bow tie is one of the best parts of the movie.
Mara Barker
½
Hugh 'Bulldog' Drummond (Howard) once again courts danger (and misses his wedding date) when a security guard at his wedding reception is murdered, and he sets off in pursuit of the theif (Boulton) who stole a synthetic diamond that was among the wedding gifts. As a larger plot comes to light, and he and his manservant Tenny (Clive) run afoul the villains, his bride-to-be, Phyllis (Campbell), and his friend Algy (Denny) set out to find and rescue him. But will they make matters better or worse? "Bulldog Drummond's Peril" is one of the best entries in the series. Fine acting, an engaging story, and attention paid to the events of previous films, it is certain to draw you in. (The fact that it pays attention to series continuity--the previous film ended with Hugh and Phyllis on their way to Switzerland to get married, and this one opens at the wedding reception a day or two before the wedding--makes it all the more enjoyable. If only more of the writers and producers of movie series in the 1930s and 1940s could have been bothered with such details....) The film is part mystery, part adventure tale, and its convoluted plots twists back and forth as Drummond tries to catch a killer and unravel the many deceptions that are piled upon one another. And if the plot wasn't enough to keep the viewer interested, (There are two seperate groups of bad guys after the same goal but for different reasons, and they are alternatively cooperating and crossing each other, frustrating Drummond's efforts to get to the bottom of what is really going on.) Although there isn't as much amusing banter in this film as in the three previous entries in the series--things are a little grimmer here, as one of Drummond's quarries is a respected business man and one of the peerage, (so Scotland Yard won't get involved without solid evidence of serious wrongdoing) and the laboratory of Algy's father-in-law is bombed--most of the returning castmembers give their best performaances of the series yet. The villians of this installment are also superior both in writing and in the actors who portray them. In the previous two installments of the series, the bad guys were either a little too frivilous (in ""Bulldog Drummond Comes Back") or too bland (in "Bulldog Drummond's Revenge"), but here they are perfectly slimey (the devious, arrogant British lord played by Matthew Boulton) or sinister (the sociopatic American scientist played by Porter Hall). The film also provides an interesting expansion of the Drummond Universe in the revelation that Tenny is far, far more than just a clever gentleman's gentleman. He is himself something of an adventurer and a rogue with his own network of informants that he can tap into when he or Drummond needs it. The only true weak point in the film, it John Barrymore's portrayal of Colonel Nielsen, Drummond's friend at Scotland Yard. In the previous three movies, Nielsen came across as consistenly irrirated with Drummond, but stll fairly professional, friendly, and even a little fatherly at times. Here, he comes across as an ignorant, bellowing jerk and almost slides into the "incompetent police inspector" stereotype that was so typical in films of this type. (He does get one of the films funniest lines, though right at the end where he effectively turns the tables of joking on Drummond.) Bulldog Drummon'd Peril Starring: John Howard, Louise Campbell, E.E. Clive, Reginald Denny, John Barrymore, Porter Hall, Matthew Boulton, and Halliwell Hobbes Director: James P. Hogan
Steve Miller
Good but average entry into the series, once again the presence of John Barrymore is a big plus, but other than that rather ordinary.
James Higgins
Bulldog Drummond's Peril Quotes
There are no approved quotes yet for this movie.
Discussion Forum
Discuss Bulldog Drummond's Peril on our Movie forum!