Burning Annie
(2003)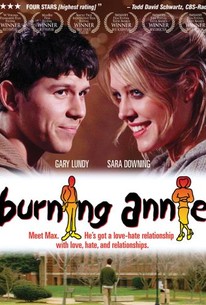 Movie Info
A college student and aspiring radio personality finds his obsession with Woody Allen's Annie Hall may be hindering his love life in director Van Flesher's heartfelt tribute to the master of the neurotic comedy drama. Max is a college student whose love of Annie Hall is beginning to border on unhealthy. Though his friends are quick to point out the main hurdle preventing Max from connecting with the opposite sex, the obsessive cinephile himself is in a constant state of denial. When Julie, the one and only fan of Max's late-night radio show, begins to take a romantic interest in Max, it finally dawns on the lovelorn broadcaster just how wild he has allowed his rampant film fanaticism to run. Now, in order to find true love, the man who loved Annie Hall will be forced to kiss his fictional sweetheart goodbye and take a chance on real life.
News & Interviews for Burning Annie
Critic Reviews for Burning Annie
Audience Reviews for Burning Annie
If you're gonna reference Annie Hall throughout your movie, or even worse, claim that your main love interest is "the modern incarnation of Annie Hall" in your badly-written Netflix DVD sleeve synopsis, you better go balls-to-the-wall with that homage. I want a nightclub-singing, lobster-flinging, tennis racket-swinging ditz who wears ties and vests, dammit!!! I would rather think you copied Annie Hall than you co-opted a few of its philosophies because you think (erroneously) that they define you as a human being. The filmmakers seemed to have good intentions. They're young and fresh-faced and pretty decent actors for the most part. The script isn't even that bad, if they had just taken out the ham-handed attempt at Woody Allen worship. There are some funny, neurotic quips that fit into a nice, college rom-dramedy, but - and this may be ageist of me - these characters are too young/immature/inexperienced to "get" Annie Hall. I also couldn't get past the fact that the lead male looks just like Nick Jonas. And the Virginia Tech windshield decal. Weird.
Alice Shen
Super Reviewer
Burning Annie Quotes
There are no approved quotes yet for this movie.