Burning Bright
(2009)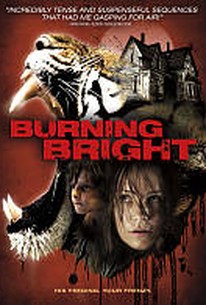 AUDIENCE SCORE
Critic Consensus: No consensus yet.
Movie Info
An autistic twelve year old boy and his older sister battle a Bengal tiger in a boarded up house as a massive hurricane blows into town, dashing any hope of a hasty escape. In the wake of her mother's death, Kelly (Briana Evigan) is forced to play the roles of sister and parent to her autistic younger brother, Tom. Upon discovering that their step-father, the owner of a safari park, has raided her college savings to purchase a volatile Bengal tiger, Kelly realizes that her dreams of getting a higher education are all but dashed. But just as Kelly begins to think that the worst is behind her, a powerful hurricane begins to batter their house with devastating winds. Even worse, her step-father's tiger has escaped from its cage, and it's been quite a while since the formidable man-eater has had a proper meal. Trapped, terrified, and completely defenseless against one of nature's most perfect predators, Kelly and Tom do their best to avoid the ferocious wild beast until the winds die down, and they can escape outside. Meat Loaf and Garret Dillahunt co-star.
Critic Reviews for Burning Bright
All Critics (3) | Fresh (3) | Rotten (0) | DVD (1)
a taut thriller with plenty of flesh on the bone, let down only by its mawkish, overcooked ending.
September 7, 2010
a taut thriller, as solid and arresting as a 500lb carnivore - and just wait till you see what the cat dragged out...
Audience Reviews for Burning Bright
½
[img]http://images.rottentomatoes.com/images/user/icons/icon14.gif[/img]
Directors Cat
Super Reviewer
There are some films with a premise so juicy, you just can't say no. Burning Bright is a triple threat of genius conflict. First of all, we have a young girl battling with the choices her life presents. She wants to take a scholarship to a university, but can she leave her autistic brother alone. To better visualize this moral conundrum, the film takes place during a hurricane. Oh, and there's a tiger in the house. It sounds ridiculous, and for the most part it is. Especially once it's revealed why there is a tiger in the house. It's the dumbest plan in movie history. The biggest sin of this film is taking itself too seriously. Even the title is a reference to a famous poem. The director does a great job at building tension, and unlike the killer tiger movie Maneater, it's edited so the tiger seems fierce. The film does have some brave character moments, such as Evigan dreaming about suffocating her autistic brother, and leaving him in the house. These moments help tobuild some empathy towards her. On the other end of the scale, we have a tiger that takes longer to bust through wardrobe doors, than it does for a teenage girl to break through a wall. It must be nice to have a screenwriter on your side. As the film rambles on, it all gets a bit repetitive, especially since the house isn't that big. I'd recommend it for a rainy morning of stupid fun. Plus, it starts with a cameo from Meatloaf.
Luke Baldock
Super Reviewer
½
Burning Bright is a horrific gem. One of those films where you ask yourself, "why wasn't this released in theaters?" That is exactly what I was wondering while watching. I felt my heart beating throughout the 50 minute action sequence. The premise will immediately catch your attention, a young women and her autistic brother are trapped in a house with a hungry tiger during a hurricane. The house is barricaded. ~How did the tiger get into the house? Will they survive?~ It's surprising the amount of things occurring throughout and it's a nice change from almost every one-dimensional horror films nowadays. It is also extremely believable; this can happen to anyone of us. If you thought Freddy Kruger was scary, try taking on this tiger. It's unfortunate that it was never credited because the tiger is the star of the film. Briana Evigan also gives a terrific performance as the hot women in trouble and fits this film perfectly. There are no real flaws in Burning Bright. It is quiet perfect of how to make a suspenseful thriller. It's a thriller that actually thrills. It goes the extra mile making sure your heart is pounding out of you chest at every moment. A couple of scenes are simply unforgettable. Burning Bright is a bright light for every inspiring filmmaker out there. It doesn't matter if your film gets the attention it deserves, someone will notice and appreciate the work that was done. The filmmakers know how to make a great film. They didn't just think of the good plot, they also spent time perfecting it and it's noticeable. Burning Bright was never released in theaters, and frankly it should have been. It's one of the most thrilling films I have seen in years. The suspense will eat you alive.
Burning Bright Quotes
There are no approved quotes yet for this movie.