Burning Palms
(2011)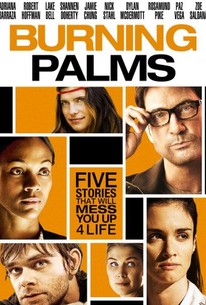 Movie Info
BURNING PALMS is a subversive tale that interlaces five stories where no taboo is left unexplored. Framed as a graphic novel come to life, the film unfolds in five popular neighborhoods of Los Angeles as each character careens toward a dark and often comic fate. Santa Monica: Dennis Marx (Dylan McDermott) and Dedra Davenport (Rosamund Pike) are waiting at the airport for Dennis' 14-year-old daughter Chloe (Emily Meade). From the second she arrives it is clear that she and her father do not have a conventional relationship. Dedra becomes so distraught and jealous that she kills herself. Westwood: Ginny Chen (Jamie Chung) and Chad Bower (Robert Hoffman) are a young couple in love. When Chad asks Ginny for an unusual sexual request, Ginny continually feels shame for her sin, punishing herself through self mutilation. West Hollywood: Geri (Peter Macdissi) and Tom (Anson Mount) are life partners, though they could not be more different. The two adopt a little girl from Africa named Mahogany (Tiara McKinney), but when the little girl doesn't meet their expectations of how they feel she should act, they abandon her in a state forest. Holmby Hills: Nicholas (Austin Williams), Trevor (Jake Austin Walker), and Colby Pinter (Addison Black) are three brothers who love making mischief and are raised by their pot smoking nanny Mary Jane (Lake Bell). When the household maid Blanca's (Paz Vega) dead child's umbilical cord goes missing, the three boys hold a trial in which a deep secret is revealed about the death of Blanca's baby, which probes Blanca to kill herself. In Sherman Oaks, Sarah Cotton (Zoe Saldana) is a young woman who finds herself a victim of rape. When her rapist flees, he leaves behind a crucial part of his identity: his wallet. Sarah tracks down Robert G. Kane (Nick Stahl) to a local pizza place. Instead of turning him in, Sarah wants him to rape her again. The underlying story beneath Burning Palms' five featured stories, is the different kinds of people who live in the unique neighborhoods that make up the entertainment capital of the world: Los Angeles. There have been previous films similar in design, but their separate storylines always intersect at the end. Burning Palms defies those expectations by keeping the stories separate and distinct. The only commonality is the presence of the "bag lady." There have also been many Los Angeles based films that speak to the 'magic' of Hollywood where struggling underdogs venture, and through twists of fate, make it big. But there is one aspect that is often overlooked and ignored in Hollywood: the average person. This film gives a good look at the people who aren't gracing magazine covers or starring on the big screen. Yet despite having average lives, these people prove that maybe they have a little bit Hollywood magic of their own-showing the world that nothing is ever like it seems. -- (C) New Films
News & Interviews for Burning Palms
Critic Reviews for Burning Palms
Audience Reviews for Burning Palms
the trailer to this film was everybody's quick opinion on the film as they left the cinema and everybody said how bad and disgusting it was. that made me really want to watch it. It did live up to my expectations and was funny as hell. I'll never look at an Asian girl the same again.
Shawn Montague
Super Reviewer
½
Five Tales That Will Mess You Up For Life. Not bad yet not great either. This film has many stories which could may be real in real life but totally messed up too. I think the cast was decently good and the director almost achieved his his goal but failed in alot other ways. Five tales of madness set in L.A. In "Green-Eyed Monster," a foul-mouthed 15-year-old comes home from private school to meet Dedra, the woman her dad plans to marry. Father-daughter antics creep Dedra out. In "Little Piggy," a woman can't get the stink off a finger she's used to stimulate her boyfriend during sex. "Buyer's Remorse" presents Tom and Gerry, a West Hollywood couple, who buy a child on the black market; she takes weeks to say her first word. In "Kangaroo Court," a nasty kid torments a maid in his household by stealing the placenta of her dead baby. In "Man Eater," a woman tracks down a rapist who has left his wallet at her house. When she finds him, what will she do?
½
"Five Tales That Will F#%! You Up For Life" A subversive tale that interlaces five stories set in Los Angeles, where no taboo is left unexplored as each character careens toward a dark and often comic fate.
REVIEW
If you have a dark humor, and speak cynicism fluently - this movie is definitely worth your time. Usually when a movie depicts a couple of different stories with a common denominator, shown one following the other, not interlacing, it is used in order to show "a bigger picture", which brings me to one of the two only issues with this film (in my opinion): there is no bigger picture. If you're looking for a final scene that will connect all the dots together, you should know there isn't any. It's just not this kind of movie, nothing to be disappointed about. The other thing that might bother you, is the lack of "tightness" in the plots. This becomes very apparent in the different endings - as if the writer had an excellent idea for five sketches, but not a movie. A film that isn't going to be everyone's tea, with some of the set-ups leading to some very outrageous, absurdist scenarios but worth watching only once.
Lorenzo von Matterhorn
Super Reviewer
Burning Palms Quotes
There are no approved quotes yet for this movie.