Butley
(1974)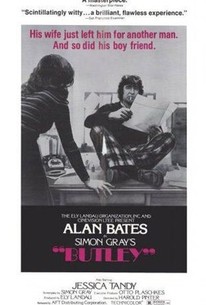 AUDIENCE SCORE
Critic Consensus: No consensus yet.
Movie Info
Alan Bates is the whole show in this American Film Theater presentation of the London stage success by Simon Gray, brought to the screen by Harold Pinter, the famed British playwright in his film-directing debut. Bates is an embittered English teacher who, in one day, loses his wife to another teacher, discovers his male lover has left him for another man, and learns that a long-in-the-works manuscript by a female colleague that Butley has continually disparaged through the years has been accepted for publication -- while his own project lies dormant and unfinished.
Critic Reviews for Butley
All Critics (2) | Top Critics (1) | Fresh (2) | Rotten (0) | DVD (1)
We don't pity [Butley], even though we should. He somehow doggedly weathers each crisis, and we even feel a sneaky affection for him. Maybe that's the way the role is written, or maybe it's because of the double-reverse charm Bates brings to it.

Audience Reviews for Butley
Stagy production would be nothing without the great performance given by Alan Bates.
½
In the beginning, there is the cough, as English professor Ben Butley(Alan Bates) has trouble waking up in the morning and cuts himself shaving. He barely makes the tube train, somehow finding a seat where he can smoke and read, which takes him to his university office which he shares with Joey Keyston(Richard O'Callaghan) along with a bed. I should have known there was something amiss with "Butley" from the opening scene that goes on too long. And if you think that is bad, then the rest of this intermittently witty movie which is set almost exclusively on one set in one running scene is even worse, and somewhat haphazardly directed to boot.(This is one of the American Film Theatre series from the 1970's when the default setting for depicting gay men was bitchy.) As a heavy drinker(it's not the kidneys he should be concerned with...), Butley does slip out down to the pub at one point which is a perfect opportunity for the audience to slip out for a pint or an ice cream sandwich. And as good a performance as Alan Bates gives, it still feels like being trapped in a confined space with a very unpleasant man, giving us a perfect feel for what Joey's life is like on a daily basis. In fact, Butley tries to avoid responsibility whenever possible, playing hide and seek with Carol Heasman(Georgina Hale), a prospective tutorial student, which interrupts him taking stock of the glorious mess of his life in this glorious mess of a movie.
Butley Quotes
There are no approved quotes yet for this movie.