The Butterfly Effect 3: Revelations
(2009)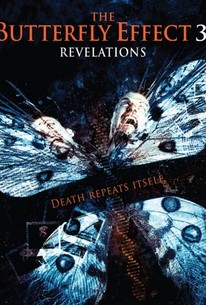 AUDIENCE SCORE
Critic Consensus: No consensus yet.
The Butterfly Effect 3: Revelations Photos
Movie Info
A man with the ability to leap back and forth though time attempts to help a childhood friend solve her sister's murder, in the process breaking his own golden rule and creating an evil that didn't exist previously. Sam uses his gift to help solve the crimes that leave detectives cold. Though it pains him to know that he can never intervene directly during his leaps, he knows that the consequences could be terrible if he does. Approached by his old friend Elizabeth to help track down her sister's murderer, Sam obliges. But this time things are different, and Sam's inner demons force him to break the one rule that he has always upheld. Upon returning from his leap, Sam discovers that his slip up has given birth to a maniacal serial killer that would never have existed otherwise. Now, as the death toll continues to rise, it's up to Sam to dive back into the past and uncover the killer's identity before any more lives are lost.
Critic Reviews for The Butterfly Effect 3: Revelations
Audience Reviews for The Butterfly Effect 3: Revelations
For a third movie, it wasn't bad. Better than the second one by a long shot. Doesn't always make sense, but stands alone fine with enough happening to keep it interesting. Rachel Miner is pretty good as Jenna. I didn't see the ending coming either. A good twist. Heaven help me, I would continue to watch these if they keep making them. Needless to say, the first was the best, though.
Nicki Marie
Super Reviewer
More of an installment than a sequel as the same method of time travel applies, but to a new person. It's far from flawless in acting and parts of the storyline, but it does appeal to my interest in Serial Killers, combine that with time travel and it made for enjoyable viewing.
Lady D'arbanville
Super Reviewer
Oh my god. you know how every t.v. show of the last ten years has that character who just walks into a room and interrupts two characters conversation by saying "OH. MY. A-GODD." while this is undeniably hilarious, there is usually nothing very shocking to provoke it. its usually like, a white guy kissing a black girl, or a set of mysterious car keys on the kitchen table. but this time, its fur-realz. i saw this movie, and i said it like Hanna Montana's best friend says it. Unfortunately, i don't care enough to write about it, and its likely this will never be read anyway. so ill just talk about Sam's psychic teacher or whatever. this guy is based on real-life people who claim to perform magic but never show you any tricks, play alot of call of duty and criticize skinny peoples cooking. but this is helpful for Sam cause no matter how many people he kills with his time-morphing, this guy will still be at home eating cream-horns and watching Robot Chicken on his computer. he is the least significant movie character since "down syndrome kid #4" in the ringer. im just glad this movie had enough balls to mold that character after my 4th grade recorder teacher. he looks like the comic book guy from the simpsons. ok, shit. thats all. im not typing another word.
Coxxie Mild Sauce
Super Reviewer
The Butterfly Effect 3: Revelations Quotes
There are no approved quotes yet for this movie.