Calvaire (The Ordeal)
(2006)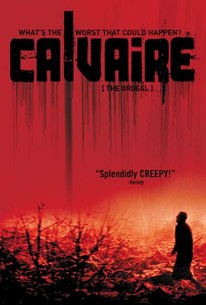 Calvaire (The Ordeal) Photos
Movie Info
A traveling entertainer falls prey to a disturbed recluse in director Fabrice Du Welz's twisted, slow-burn riff on Deliverance and The Texas Chainsaw Massacre. Having finished his latest performance at a remote retirement home, wandering singer Marc Stevens (Laurent Lucas) packs his gear into his van and sets out towards his next gig. Unfortunately for Marc, the fog-shrouded roads of rural France are more treacherous than he ever anticipated. When his van breaks down in the middle of the night and a skittish local promises to lead him to a nearby inn owned by the eccentric recluse Paul Bartel (Jackie Berroyer), it appears that luck may be on Marc's side and he will be back on the road with the light of the morning sun. This isn't your average bed and breakfast, though, and Bartel certainly isn't the kindly innkeeper he initially appears to be. When Marc's van is set aflame and his increasingly menacing host makes a most disturbing claim, the soft-spoken singer will be forced to fight for his life against not only Bartel, but an entire village of deeply disturbed woodsmen.
News & Interviews for Calvaire (The Ordeal)
Critic Reviews for Calvaire (The Ordeal)
Audience Reviews for Calvaire (The Ordeal)
Boring artsy-fartsy horror
½
Infuriating, amateurish crap; the end result of a fitfully inventive mind watching too many American horror movies and deciding to piece together an absurdist homage comprised of about four or five mildly interesting set pieces. There's not much reason to care about all the obtuse, heavily-implemented symbolism, as its only purpose seems to be loaning stray bits of meaning to a film that really doesn't have much. To be honest, none of it seems to have been done with all that much thought. Calvaire has a gaggle of astonishingly self-absorbed defenders on IMDB who write anyone not fond of the film off as uncultured or thoughtless, when there's really not a great deal to think about here. The seasons change arbitrarily because Fabrice Du Welz thought it would look cool. There are red-coated midgets in the woods because Fabrice Du Welz wanted to throw in a reference to Don't Look Now. These are just little ribbons adorning a very shallow package, and the complete discordance with which they're assembled precludes them from adding any sort of depth. The sound design is hackish and overdone, a mistaken effort at substituting volume for menace; the performances are poorly framed and striving for very different things, be it outright horror (Lucas) or black comedy (Berroyer); the only thing Du Welz really pulled off is the elegantly-lit, unshowy cinematography, using the sparse terrain to its best advantage. Unfortunately, it isn't enough to justify a watch, and Calvaire ultimately adds up to nothing but a few mildly "shocking" scenes.
Drew Smith
Super Reviewer
Survival horror for the art house crowd, Calvaire has a unique oddness that drives its deranged story straight into the eyeballs of viewers. The horror here is in the insanity of the captors and the atmosphere of the area where the main character is stranded. If you want silly excessive gore, this is not your movie. If you want a captive survival horror narrative that dares to flirt with believable mental illness and bothers to use the camera and cinematography to tell the story as much as dialogue, this is it. This is middle of nowhere backwards crazy people done to a perfect chime; look no further for your pigfucking scene needs. I hereby declare that I believe this film is superior to "Deliverance". "Most fucked up" highlight: the village dancing around the piano
_kelly .King
Super Reviewer
Calvaire (The Ordeal) Quotes
There are no approved quotes yet for this movie.