Canadian Bacon
(1995)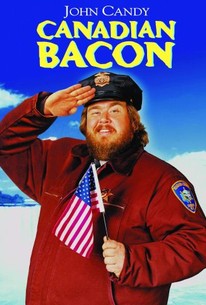 Movie Info
In Michael Moore's political satire, the U.S. president (Alan Alda) decides to wage a cold war against Canada in an attempt to reverse his slipping popularity, and, as a result, he drives a small group of incensed Canadians to take matters into their own hands. Alda is the first president in years not to lead his country into war, which naturally means that his approval rating is dangerously low. The sure-fire way to boost his popularity is to start a war and demonstrate American superiority. Unfortunately, as his advisors point out, the U.S. has run out of enemies. That is, until Alda's National Security Advisor Stuart Smiley (Kevin Pollak) happens to catch a segment on the news about a brawl at a Canadian hockey game that began when local American sheriff Bud Boomer (John Candy) made a remark about Canadian beer. This incident gives Smiley the notion to make the public believe that Canada is their new enemy. Determined to demonstrate the mighty power of America to the Canadians, Boomer gets a group of equally angry fellow Americans together to cross the border and perform the most serious of all Canadian crimes -- littering. However, the invasion is foiled and Boomer's numerous blunders threaten to turn a fabricated war into a real one. Written, directed, and produced by Michael Moore, Canadian Bacon takes lighthearted jabs at the differences between the U.S. and Canada, while also satirizing America's obsession with its military strength. The film features John Candy in his last complete screen performance.
People Who Like this movie also like
Critic Reviews for Canadian Bacon
Audience Reviews for Canadian Bacon
Michael Moore's comedy may not be for everyone as evidenced by the disparity of reviews here ... but I laughed throughout. The jokes may not be huge, certainly not as big as the egos of the countries it lampoons, but there was a undercurrent of truth in the gags that'll keep 'em in yer head long after you see it.
Kevin M. Williams
Super Reviewer
½
Very clever and very amusing comedy staring yet not centred around John Candy, this is more of a vehicle for many good character actors including Alan Alda, Rip Torn, Dan Aykroyd, Kevin Pollak and G.D. Spradlin. The US President is losing in the approval ratings so on advice from his yes men he invents a war between the US and Canada, that is the plot and its brilliant. Michael Moore writes, directs and cameos in his film which is far better than you would think despite it vanishing into obscurity after release. A minor political satire mixed with black comedy and outright stupidity added with some great performances which really send up the US government, Alda and Torn in the war room together are brilliant, there is also quite abit of influence here from other classic films. One such scene where Dan Aykroyd as a Canadian policeman pulls Candy over in his truck pointing out that the graffiti on the side of his truck must be in French as well as English for all French speaking Canadians which bares a very close similarity to the classic scene in 'Monty Python's Life of Brian' where the Roman centurion orders Brian to spell check his graffiti he had scrawled all over the Roman walls. Great little gem :)
Phil Hubbs
Super Reviewer
Canadian Bacon is a very underrated comedy. Directed by documentary filmmaker Michael Moore, Canadian Bacon tells the story of an unpopular U.S President trying to gain popularity in the polls by trying to start a new cold war with Canada! As a Canadian I found this to be a very funny film filled with the usual stereotypes. Michael Moore's script is witty and original. The cast headed by John Candy (in his last role) are all terrific. Each bring something to the screen which makes Canadian Bacon an above average comedy. This is a very clever comedy with political overtones and it works. John Candy is terrific in last performance. I though he brought on big laughs here as a dimwitted American Sheriff. The only thing that really sucks about this film is that it's Candy's last. Canadian Bacon is an original comedy with plenty of laughs that shouldn't be overlooked. Unfortunately it has, and it unfair because Canadian Bacon despite not being a flawless film is really a lot of fun to watch. If you're Canadian like me, you'll understand it's humour a lot more. Most people that this film a bad review seem to miss the point of this entirely. Oh well. Canadian Bacon is a well written, acted and surprisingly accomplished film by Michael Moore. The film may not appeal to everyone, but to those who enjoy such humour, you're in for a treat. This film is a definite comedy classic (for me at least).
Canadian Bacon Quotes
| | |
| --- | --- |
| Sheriff Bud Boomer: | There's not a locked door in the whole country. |
| | |
| --- | --- |
| President of the United States: | Release Honey pronto, or we'll level Toronto! |
| | |
| --- | --- |
| Gus: | These Canadians suffer from a serious inferiority complex. That's why they built this: The Canadian National Tower! World's largest free-standing structure! |