Captain Abu Raed
(2007)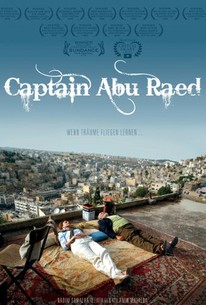 Movie Info
Abu Raed is a lonely janitor at Amman's International Airport. Never having realized his dreams of seeing the world, he experiences it vicariously through books and brief encounters with travelers. Finding a discarded Captain's hat in the trash at work one day, he is followed by a neighborhood boy who spots him wearing it as he walks home. The next morning he wakes up to find a group of neighborhood children at his door, believing him to be an airline pilot. And thus the friendship begins. Happy for the company and attention, he takes the children to colorful places around the world through his fictional stories and inspires them to believe in their own ambitions. Murad, an angry outsider to the group, vindictively attacks Abu Raed and the sense of hope he instills in the children. In his quest to prove that Abu Raed is a liar and a fake, Murad begins to discover new possibilities in his life. Meanwhile, Abu Raed's friendship with Nour, a real female pilot, begins to grow as she deals with her own set of pressures from life in modern Amman.
News & Interviews for Captain Abu Raed
Critic Reviews for Captain Abu Raed
Audience Reviews for Captain Abu Raed
½
Abu Raed (Nadim Sawalha)is a simple airport janitor at the International Airport in Amman. One day he finds a discarded captain's hat in the garbage.When he wears it on his way home, one of the kids in the neighborhood mistake him for a pilot and wants him to tell about 'his adventures'. Though he is unwilling to tell any story at first, Abu Raed doesn't mind pretending to be the local captain who regales the kids with his 'airborne exploits.' What seems to be a simple,unimportant hat at first turns out to be a treasure trove of love and fun.We later find out that Abu Raed is a guy who resists being an embittered, hardened old man in spite of the fact that he lost his wife and his only child. Though he is a simple janitor, he speaks profoundly from the heart. He is well-read and wise. He even has a smattering of a few European languages. With such an original story, truly moving picture and convincing acting you just want it to be bit more fast-paced actually. Since there are lots of subplots in the movie, during almost more than half of the movie you just wonder which set of events (or people) will be regarded less important. Whose story will be developed? The story of Nour (Rana Sultan), a female pilot whose wealthy father poorly tries to find her a husband or the story of the local kid Tareq (Udey Al-Qiddissi)who is forced into child labor by his father instead of going to school? In the end, Amin Matalqa chooses to tell the story of Abu Murad whose mother constantly gets beaten by his abusive father. Though you can't tell everyone's story in a feature length movie, Mataqa's finalizing all these subplots in a finale in the last twenty minutes leaves a half-baked flavor in your cinematic enjoyment and you wish it were a better-paced and better-edited movie but that doesn't mean Abu Raed is not a movie that's worth every minute of your time.It is purely humanitarian,truly moving movie which somehow gets to you. The pièce de résistance, however, is the fact that this movie Amin Matalqa's feature length debut. 4 1/2 Stars 9-5-13
Bruce Bruce
Super Reviewer
½
Writer/director Amin Matalqa's film about a lonely widower begrudgingly befriending the local children blossoms into a look at the yearnings of the heart as well as the price such dreaming might cost. Filmed in Amman, Jordan, here is no brand name canned soup but the rather the homemade dinner call of a promising new voice.
Kevin M. Williams
Super Reviewer
A great little film. Maybe slow-moving by American standards, but insightful with developed characters, unpredictable, and very moving.
Cynthia S.
Super Reviewer
Captain Abu Raed Quotes
There are no approved quotes yet for this movie.