Celtic Pride
(1996)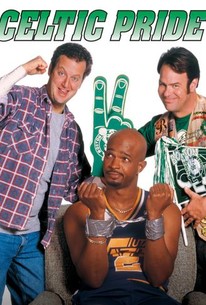 Movie Info
Two rabid Boston B-ball fans go over the edge and kidnap the star player of the Utah Jazz during the NBA playoffs in this goofy sports comedy starring veteran comic actors Dan Aykroyd, Damon Wayans and Daniel Stern. Aykroyd and Stern play the dim-bulbed fans, high school gym teacher Mike O'Hara, whose passion for basketball is destroying his marriage and Jimmy Flaherty, the owner of a plumbing business. Tired of watching the Celtics lose to the Utah Jazz during the playoffs, they go into an upscale bar one night and see Utah's superstar player/tv commercial pitchman Lewis Scott (Wayans). Scott is a class A arrogant hot dogger with a bad attitude (deep down he cares more for money than the sport that made him rich), making him a favorite with fans. Inspiration strikes Flaherty and O'Hara who proceed to cozy up to Scott and get him blind drunk. They too get ripped and the next morning the hung-over duo awaken to a surprise. There in Flaherty's living room sits a bound, gagged and angry Scott, whom they apparently kidnapped the night before. They decide to help their team and not let him go. So begins the bulk of the movie, a verbal, slapstick cat and mouse game between the basketball player and his two bumbling captors.
People Who Like this movie also like
Critic Reviews for Celtic Pride
Audience Reviews for Celtic Pride
With it's flaws and sometimes lack of humor, Celtic Pride have a interesting plot and become a satire of the schizophrenic society, with a great obsess for sports, television and macho culture. A portrait of different social classes and madness that share angry and fanaticism for things without meaning.
Lucas Martins
Super Reviewer
2 stars for the Larry Bird cameo.
Lenny Muggsy
Super Reviewer
½
Good fun loopy comedy with Aykroyd and Stern as a couple of obsessed Boston sports fans that kidnap Utah's top basketball player just in time for the NBA finals. Great simple plot that works really well but the duo of Aykroyd and Stern really makes the film hit top stride. Stern being a crazed on the edge father and Aykroyd as his timid submissive best friend make a great combo, Wayans is also actually very good as an arrogant selfish top player really nailing the role, all together its really quite amusing as the trio get into all kinds of trouble as the big game approaches. I liked how the boys had to pretend to support the Utah Jazz in order to get close to Wayans character so they could nab him haha some good facial/physical comedy on display there. Not a well known flick but well worth it if you find it.
Phil Hubbs
Super Reviewer
Celtic Pride Quotes
There are no approved quotes yet for this movie.