Chance Pe Dance
(2009)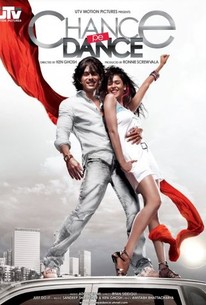 AUDIENCE SCORE
Critic Consensus: No consensus yet.
Movie Info
"Chance Pe Dance" is the story of a talented and passionate young actor/dancer named Sameer. Positive and brimming with energy, Sameer juggles various jobs while working towards getting his big break in the industry. Along the way he meets the vivacious Tina, a choreographer with dreams of her own. She's appreciative of his talent and encourages him to remain strong-willed. Just when Sameer is promised his big break, he is rendered homeless and finds himself struggling to make ends meet. Not one to lose heart, he begins teaching dance in a school to young kids who have no real interest in the art. When all of a sudden, the director who promised to launch Sameer, decides to go the "talent hunt" route, a shattered Sameer decides to put his dreams on hold and divert his complete focus towards the kids. He coaxes them into enrolling in a prestigeous inter-school dance competition and dispite numerous hurdles trains them to win. Later, Tina and the kids urge Sameer to enter the talent hunt (which is now a popular reality show on TV) and take his one shot at fame. Sameer wins and eventually becomes what he was destined to be, a Superstar.
Audience Reviews for Chance Pe Dance
Great movie! Sameer is looking to become a famous actor, and chooses to pursue his dream in Mumbai. He's done numerous auditions, and is well aware of the overall procedures. Tina is a choreographer, and the two meet and become friends. Homeless, and low on money, Sameer takes a job working as a dance teacher at a local school. Sameer auditions for a starring role in a film, and Tina supports him wholeheartedly. It is quite obvious that Genelia and Shahid have great chemistry working together. Awesome music. Shahid Kapoor and Genelia D'Sousza stars. Worth seeing!
Chance Pe Dance Quotes
There are no approved quotes yet for this movie.