Chennai Express
(2013)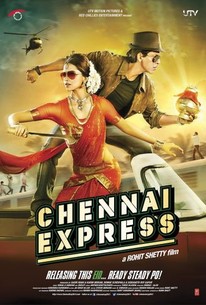 Movie Info
Chennai Express is a story of Rahul (Shahrukh Khan) who embarks on a journey to a small town in Tamil Nadu, only to fulfill the last wish of his grandfather to have his ashes immersed in the Holy water of Rameshwaram. En route, he meets a South Indian girl (Deepika Padukone) hailing from a unique family down South. As they find love through this journey in the exuberant lands of South India, an unanticipated drive awaits them. What follows is a series of adventures where he finds himself in estranged situations, challenged with an unfamiliar language! Chennai Express is an action packed romantic journey. (c) UTV
Rating:
NR
Genre:
, ,
Directed By:
Written By:
In Theaters:
On DVD:
Runtime:
Studio:
Critic Reviews for Chennai Express
Audience Reviews for Chennai Express
½
Good, but overrated.... and this comes from a die hard SRK fan... Bollywood needs to cut back on the fight scenes until they become more believable
Charles Schletzbaum
½
Chennai Express is my first real experience with Bollywood and while it was't as lame as I expected it just isn't my cup of tea. Shahrukh Khan was charismatic as Rahul the immature self centered protagonist and though the actual story was entertaining and some of the spontaneous dances were fun to watch Chennai Express just didn't resonate or make me a fan of Bollywood. Perhaps other Bollywood films will be better at showing me why it is such a popular genre.
Jonathan Porras
One line summary: Occasionally funny; great scenery. ----------------------------- At 40 years of age, Rahul is looking to strike out on his own after his grandfather dies on his 100th birthday. He promises his grandmother that he will take half his grandfather's ashes to the holy water of Rameshwaram for dispersal. He concocts a scheme with his friends to disperse the ashes, then to rendezvous in Goa for a vacation. This starts out fairly well, but he nearly leaves the ashes on the Chennai express. He recovers them, but in the process unwittingly helps Meenamma get on the train, but also her four would be kidnappers. He and Meenamma try a few ploys to contact his friends and foil the kidnappers. All this goes awry. As it turns out, the kidnappers were representatives of her father Durgeshwara. Meenamma tells Durgeshwara that Rahul is her love interest. He attempts to escape the situation. Then Meenamma's other suitor shows up, and he intends some sort of duel to the death. This has to be sorted out. Misadventures, car chases, lost at sea, misunderstandings, you name it. The matter of the two suitors still has to be sorted out, after all the filler. Repeat to use up the 140 minutes. Does this get better? ----------Scores------------ Cinematography: 10/10 Nicely shot and edited; great-looking scenery, costumes, sets. Sound: 10/10 No problems. Could have used a few more musical numbers to shore up the lack of plot. I liked the numbers that were there. Acting: 5/10 I liked the performance of Deepika Padukone, who seems to be on her way up. Shah Rukh Khan clearly has talent, but he seems a bit old for this, and he seems to be covering old ground. Screenplay: 5/10 About 40 minutes of ideas done in 140.
Ed Collins