Children of the Revolution
(1997)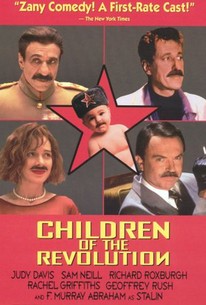 Children of the Revolution Photos
Movie Info
This Australian film goes back and forth between the 1950's and 1990's. Politician Joe Welch is having some serious difficulties, for which he blames his mother. We learn why in a series of flashbacks that show that Joe's mother Joan had a brief fling with Joseph Stalin.
Critic Reviews for Children of the Revolution
Audience Reviews for Children of the Revolution
Whose Revolution Is It Anyway? There were a lot of people who flirted with Communism because they didn't know what it was really like in the Soviet Union. When Stalin (F. Murray Abraham) dies early in this movie, it would have been easy for people who did not know to convince themselves that it was because they were now that much closer to power. It's in retrospect obviously sheer relief at surviving Stalin's regime at all, much less with your political power intact. How much emotional attachment you had to the regime was not, it must be made clear, entirely to do with what relationship you had with Stalin. His daughter died not long ago; his older son died in a concentration camp. Stalin had refused to arrange his son's release on the grounds that anyone captured in war was a coward and deserved what he got. Bearing Stalin's legacy would not be an easy one, especially if you grew up somewhere the legacy was made clear. Joan (Judy Davis) is one of those middle class Communists you get in countries like, well, Australia. Regular as clockwork, she writes long and longing letters to Stalin, letters which make the men who actually read them weep. One day, Stalin himself chances to see her picture, and he invites her to come to Moscow. The Soviet leadership wines and dines her, and she ends up spending the night with him. It is the last night he is ever to spend with anyone. Joan returns to Australia, where she finds out that she is pregnant. She marries fellow revolutionary Welch (Geoffrey Rush) to give her son a name, but she knows whose son the boy is. Despite the hopes of Nine (Sam Neill), an agent who was also in Moscow that fateful night and who loves her. She names the boy Joe (Richard Roxburgh), and she raises him in revolutionary principle. Which is why she is so shocked when he not only marries a policewoman (Rachel Griffiths) but begins to organize a union of law enforcement officers. There are a few too many coincidences for my taste. The fact that Anna, the policewoman, ended up in Australia because her family was killed by Stalin was bad enough. But the fact that Nine had something to do with it? The fact that he is able to see her in Australia before she leaves and then be with her in Moscow when she arrives there? It's a bit much. The fact that Joe is injured in a fire so that his nose is shaped like his father's and his lip is horribly scarred just is not right. Especially the lip part; one might believe that he will grow up with the nose, but the movie just felt the need to force the character into a Stalin-style moustache. And honestly, I don't think we need the idea that he comes to resemble his father physically to recognize how much he is coming to resemble his father in other ways. I think the filmmakers just thought it was funnier if they did it that way, the way they thought so much else was funny that wasn't, much. The only truly sympathetic character in the piece is Welch. He loved Joan before she went off to Moscow, asked her to marry him, in fact. And when she needed help, when she came back to Australia carrying Joseph Stalin's secret child, it was Welch who could help her. She couldn't or didn't even tell him the truth. She told him that she didn't get a chance to meet Stalin before he died, which of course he suspected was a lie as soon as she told it. But he loved her--and loved her son as his own. It's possible to have some sympathy for Anna as well, but I don't think anyone took her quite as much for granted. Welch knew he was being used; he couldn't not. He knew that his marriage to Joan was her concession to public opinion, and he tried to do his best by them both. By the sound of it, he was a good dad, too, doing as much as he could to balance out the fanatical nature of Joan. Unfortunately, there wasn't much to be done to overcome both her parenting and Joe's father's genes. This was not, I think, as good a movie as [i]Goodbye, Lenin[/i], a somewhat similar film. Part of it is that [i]Goodbye, Lenin[/i] explores the real impact the fall of the Soviet Union would have on someone of Joan's beliefs. As we see it here, Joan changes not an iota and doesn't react very much, either. It's worth noting that neither Joe nor the German film's Alex are all that ideologically devoted to Communism. Whatever Joe believes, he is at least as interested in his own potential power and influence as anything else. The movie does not mention anything about his father's ideology per se, though I have always felt that people like Joseph Stalin are not attracted to an ideology so much as they are to an opportunity to gain power. Stalin could not have acquired much under the Tzarist system, given the family of his birth. Communism offered a system where a short, pockmarked cobbler's son from Georgia could rise to power over others, and that's what drew him. Certainly not anything to do with helping the poor!
Edith Nelson
I love dark humor and this movie is rife with it. F. Murray Abraham's portrayal of Stalin as a vain, buffoonish seducer is hilarious. About the only time Stalin made me laugh. Judy Davis is, as always, stellar.
Laura Krause
Judy Davis is an extremely devout Australian Stalinist raising a son in Children of the Revolution. Mother and son bond by going to jail together for the Revolution. Lots going on in this uneven black comedy also featuring Sam Neill and Geoffrey Rush. (1996)
John Brennan
Children of the Revolution Quotes
There are no approved quotes yet for this movie.
Discussion Forum
Discuss Children of the Revolution on our Movie forum!