Chinese Roulette
(1976)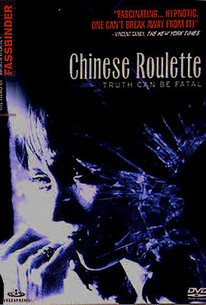 Critic Reviews for Chinese Roulette
Audience Reviews for Chinese Roulette
Fassbinder tries to be clever. It doesn't work.
Marcus Woolcott
Super Reviewer
½
A revealing drama that deserves praise for its exceptional direction, as Fassbinder creates an unsettling atmosphere mostly through an evoking soundtrack and a wonderful camera work that makes every shot look like they could be framed and put on a wall.
Carlos Magalhães
Super Reviewer
It's fitting that a chess board is prominently displayed in the main set of "Chinese Roulette," because this claustrophobic Fassbinder classic is all about games, strategy and mathematics. Essentially, the story is a jousting tournament of four couples: a husband (Alexander Allerson) and his long-time mistress (Anna Karina, doing her best to stay afloat in a German-language film); his icy wife (stunning Margit Carstensen) and her lover (Uli Lommel); the couple's vicious, crippled daughter (Andrea Schober) and her deaf-mute governess (Macha Meril); and a crabby housekeeper (Brigitte Mira) and her ridiculous son (Volker Spengler). Plenty of Fassbinder regulars among the cast. Perversely, the daughter's handicap draws no sympathy from the other characters or even the audience, because she is so bitter, hateful and ruthless. It is she who sets the conflict in motion, via coldly engineering a surprise meeting between the two philandering couples at a beautiful, getaway mansion. To give more plot would be saying too much, but the film is thoroughly compelling over its brief 84 minutes, and it adds an ambiguous denouement that's bound to cause a discussion with your date.
Eric Broome
Super Reviewer
Chinese Roulette Quotes
There are no approved quotes yet for this movie.