CHIPS
(2017)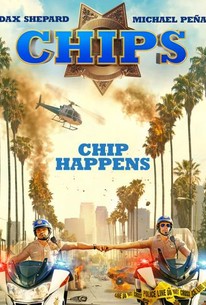 TOMATOMETER
AUDIENCE SCORE
Critic Consensus: CHiPS abandons the endearing innocence of its source material, using the titular cop show's premise as a setup for aggressively lowbrow gags that prove only mildly arresting at best.
Movie Info
Dax Shepard (Hit & Run, TV's Parenthood) and Michael Peña (Ant-Man) star in the action comedy CHIPS, directed by Shepard from his own script. Jon Baker (Shepard) and Frank Ponch Poncherello (Peña) have just joined the California Highway Patrol (CHP) in Los Angeles, but for very different reasons. Baker is a beaten-up former pro motorbiker trying to put his life and marriage back together. Poncherello is a cocky undercover Federal agent investigating a multi-million dollar heist that may be an inside job--inside the CHP. The inexperienced rookie and the hardened pro are teamed together, but clash more than click, so kick-starting a real partnership is easier said than done. But with Baker's unique bike skills and Ponch's street savvy it might just work...if they don't drive each other crazy first.
News & Interviews for CHIPS
Audience Reviews for CHIPS
Dax Shepard and Michael Peña star in the buddy cop comedy CHIPS. When a California Highway Patrol officer is killed by a band of robbers the FBI sends in an undercover agent to bring them down; but first he'll have to learn to get along with his fastidious rookie partner. Shepard and Peña have good comedic chemistry and give solid performances. However, the film goes a little overboard with the crude sexual and gross-out humor. And the plot is pretty formulaic and hits a lot of the usual tropes and clichés of cop films. CHIPS delivers some laughs, but ends up being generic and overly raunchy.
Dann Michalski
Super Reviewer
Looking at the other reviews and it's like I saw another movie, a decent buddy cop movie that uses an old premise as the set-up = standard Hollywood fare. Not Citizen Kane, but no reason for the ugly ragging this got. Shepard and Pena know their stuff and deliver the goods: some laughs, some action, some explosions, some booty. What's wrong with that?
Kevin M. Williams
Super Reviewer
[i]'chip happens'[/i]...really? Yeah this one tagline should sum this entire movie up for anyone, if it doesn't then...umm...like I dunno, wow! So [i]CHiPs[/i] was a light-hearted American police drama based around the Californian Highway Patrol that ran from 1977 to 1983. These guys patrolled the highways of California on their rather slick looking police motorbikes complete with cool looking uniforms and shades. The duo were young, good looking, slim, wore tight uniforms and looked dashing on their bikes, twas all about that baby. Essentially this was a TV show for young lads who looked up to cops or wanted to be cops (big change from the present day huh) and enjoyed cool vehicles. The late 70's to mid 80's was full of these types of cool shows featuring cool vehicles and stuff. [i]The Dukes of Hazzard[/i] gave the youngsters a cool muscle car to ogle at. [i]Airwolf[/i] had an ultra cool all black helicopter. [i]Starsky & Hutch[/i] had another cool muscle car. [i]The A-Team[/i] had a cool looking van and lots of plosions. [i]Knight Rider[/i] had a seriously cool all black, talking secret agent car. [i]CHiPS[/i] was basically the same type of thing but it offered cool looking motorbikes. What I found disappointing about this movie was the simple fact that they try to do exactly what almost every other movie adaptation of these cult shows has done. Firstly they have made it an adult movie with adult content. Secondly its a comedy bordering on spoof of the franchise. And thirdly the main characters aren't actually doing the job of the original characters, they are using the positions as cover or just starting off. Yes I know they are trying to revamp the idea for the present day and yes I know they are also trying to add a fresh element. But these angles have been done before, this isn't new or clever. So the movie is actually quite violent and chock full of profanity and sexual/toilet humour. Yes I'm sure the teens may like this (maybe) but talk about alienating the core fanbase that maybe wanted to see something a bit more sensible for Pete's sake. Not only that but as I've already stated the original show was quite a light-hearted affair with little violence, so this movie has completely rejected that. Maybe a more lighter approach might have worked guys, you know instead of poo, cock, ass, drug use, masturbation gags. I mean for Christs sake! Ponch (Michael Peña) is a sex addict in this movie, every time he sees female ass he has to go jerk off. Is that the best you can do with this material?? Jon Baker is played by the director & writer, Dax Shepard (gives himself the lead role huh), and boy he is bad. Apart from trying to look and sound like Owen Wilson (seriously the hair was a dead give away), this guy can't act, he's not funny, the hair just looks weird...almost like a wig, and he constantly goes around trying to show off his torso...like all the bloody time! Not only that but his uniform is clearly custom made to look as tight as possible to try and emphasis that. Peña's uniform looks normal, Shepard's looks like its bordering on skintight...yet he has no real physique. But seriously this guy was cringeworthy all the way through, a complete hit and miss mate, stick to...well actually just quit. Obviously the plot surrounds trying to catch some criminals (robbers) and obviously there is a twist involved, not that you care because the movie tells you straight away. Baker is an ex-freestyle motocross racer so that inevitably means we'll be getting some ridiculously over the top bike stunts later on down the line. His body is also wrecked from all the injuries sustained from that previous profession so there is this subplot about him having to take tonnes of medication all the time. Didn't really catch on with that but without his painkillers his body locks up or whatever, I dunno. Basically it means that Ponch has to help him into the bath tub naked at one point because hilarity! Cue cock and balls in partners face visual gag. The movie clearly has a deal with Chevrolet because that's what all the main characters drive, its so fucking obvious. Towards the midway point the duo realise their bikes aren't fast enough so they ditch them and, of course, get super fast modern bikes. Yep they both get a new sexy full body leather biker uniforms complete with police insignia; and two red hot motorbikes also with police insignia. Its at this point that the entire movie concept goes out the window and it could literally be anything. Just two leather clad stuntmen on turbo charged bikes, looking über cool and performing boring meaningless stunts. This has to be one of the most lazy, mundane and pointless movies I've seen for some time. This falls into the [i]xXx[/i] category of utter garbage of the highest order. I can't even say the action was good because it wasn't, in fact there was hardly any action at all. What you do get is so flippin' dull its really quite amazing. You have a movies essentially about fast motorbikes and you fail to make it thrilling...or even look good??!! The humour was dreadful whilst the violence profanity and gore was completely unnecessary. Shepard shouldn't have been cast and actors like Peña and Vincent D'Onofrio embarrass themselves. Almost the entire movie is just a series of setups for lame gags later on down the line, which you can see a mile off.
Phil Hubbs
Super Reviewer
CHIPS Quotes
There are no approved quotes yet for this movie.