Cidade de Deus (City of God)
(2003)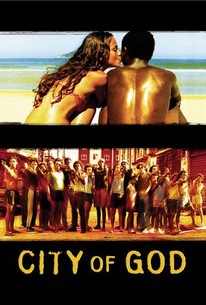 Cidade de Deus (City of God) Videos
Cidade de Deus (City of God) Photos
Movie Info
Fernando Meirelles' City of God is a sweeping tale of how crime affects the poor population of Rio de Janeiro. Though the narrative skips around in time, the main focus is on Cabeleira who formed a gang called the Tender Trio. He and his best friend, Bené (Phelipe Haagensen), become crime lords over the course of a decade. When Bené is killed before he can retire, Lil' Zé attempts to take out his arch enemy, Sandro Cenoura (Matheus Nachtergaele). But Sandro and a young gangster named Mane form an alliance and begin a gang war with Lil' Zé. Amateur photographer Buscape (Alexandre Rodrigues) takes pictures of the brutal crime war, making their story famous. City of God was screened at the 2002 Cannes Film Festival.
News & Interviews for Cidade de Deus (City of God)
Critic Reviews for Cidade de Deus (City of God)
Audience Reviews for Cidade de Deus (City of God)
If you don't like guns, this movie will be very painful for you. But a compelling glimpse into gang violence in Brazil in the 1970s.
Letitia Lew
Super Reviewer
½
A young boy grows up amid gang violence in Rio. More of a chronicle of disparate gangs than a cohesive plot, City of God is frenetic filmmaking at its finest. Quick camera pans, storylines that stop and start, and bloodletting violence fill this film with the type of energy that is reminiscent of Tarantino and Scorsese. Based on true stories, the film is more about environment than plot, and the feeling is both harrowing and shocking. There's no one central performance that strikes me as remarkable because all of the performances ring with authenticity. Overall, this is one of the finest portraits of gang violence produced outside of America.
Jim Hunter
Super Reviewer
Many have compared this stunning depiction of gang life in the slums of Rio de Janeiro, to Martin Scorsese's seminal "Goodfellas." While I understand this ascertain, and certainly agree that this film similarly deals with the complexities of gangs, there isn't the same kind of honor as in "Goodfellas." Instead of criminals getting made, fitting into a role they have coveted for much of their lives, hoods have no loyalty, as they kill, maim, and threaten with ease, and are always plotting to take over new territory. While there is a level of sophistication and class to the life of a mobster, there is no escape from the toils of hardship when taking on a life of crime in a Brazilian slum. Our story spans twenty years, and mostly follows the story of Rocket (Rodrigues) who doesn't have an inhibition to take up a life of crime. He loses relatives, friends, and acquaintances in this environment, but it's just another aspect of his life in the City of God. There are a lot of narratives threading through this film, like a Gabriel García Márquez novel. We follow Rocket for much of the film, but we also follow gang leader Lil' Dice (later christened Lil' Ze) (Firmino da Hora) as he takes over territory, creates tension amongst his ranks, creates havoc, tortures people, and starts a gang war that lasts longer than others have before. We also follow the exploits of Knockout Ned (Jorge) as he fights against Lil' Ze, Blacky, a low level drug dealer, Shorty (Camilo), an older man who murders his wife, and several others in the slum. Weaving through these narratives is constant violence and police intervention. In this film children of any age are thrust into adulthood, a gun perched on their hips while a lollipop lolls out the corner of their mouths. Children cry from bullet wounds the same as scraped knees, women are commodities, guns are badges of honor, and death is inevitable. The visuals in this film are color coordinated, bright, and informational during time jumps. The editing flashes quickly, but doesn't overwhelm the viewer by overloading the screen. The scenery is gritty and yet evocative of a cultural heritage somewhat trampled and yet thriving. Through the constant theme of violence and cyclical gang warfare we have a huge host of characters, but each of them is memorable and complex in their understanding of the world. All of these side characters are played by amateur or unknown actors, but it doesn't show. They understand the material they are covering, but are also closely linked to this subject, as many of these children were from the actual slums. Lead actor Rodrigues lived in the City of God at the time of filming, which makes his performance that much more heartbreaking, that much more uncomfortable. There were some seriously scary, terrorizing, heartbreaking scenes in this film. It's not just a film about the sound of a tommy gun during a drive by, or the wads of cash in some hood's back pocket. It's more about life, about the wish for escapism that's hardly ever sated, and silent hope, which often dies a strangled, harried death. Watching this film, you won't believe in its realism, but at the very end, before the credits roll, "Based Upon a True Story" flashes, and old wounds are ripped open anew. This is a cultural epitome that not only brutally entertains as did Scorsese's classic, but also edifies its viewer without condescension.
Spencer S.
Super Reviewer
Cidade de Deus (City of God) Quotes
| | |
| --- | --- |
| Buscapé (Rocket): | It was like a message from God: Honesty doesn't pay, sucker. |
| | |
| --- | --- |
| Buscapé (Rocket): | What should have been swift revenge turned into an all out war. The City of God was divided. You couldn't go from one section the other, not even to visit a relative. The cops considered anyone living in the slum a hoodlum. People got used to living in Vietnam, and more and more volunteers signed up to die. |
| | |
| --- | --- |
| Buscapé (Rocket): | The sun is for everyone, the beach is for those who deserve it. |
| | |
| --- | --- |
| Buscapé (Rocket): | It was like a message from God: "Honesty doesn't pay, sucker." |
Discussion Forum
Discuss Cidade de Deus (City of God) on our Movie forum!