City of Life and Death
(2011)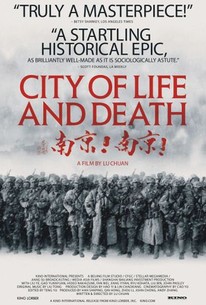 City of Life and Death Photos
Movie Info
Within the scope of Asian history, few events carry the ugly and sickening connotations of the Rape of Nanking. Japanese forces invaded that Chinese city on December 9, 1937, and in the six weeks to follow, soldiers raped thousands of women and annihilated hundreds of thousands of innocent civilians. Director Lu Chuan directs this black-and-white docudrama account of that horrifying six-week period, with the benefit of an ensemble cast that includes Hideo Nakaizumi as a conscience-stricken Japanese soldier, Fan Wei as the aid to a German humanitarian worker, and Gao Yuanyuan as the head of a refugee camp. Lu relays the events directly and straightforwardly, with a careful avoidance of sensationalism and excessive sentimentality, and uses the chronicle to meditate on the insanity of war for all of those involved. ~ Nathan Southern, Rovi
News & Interviews for City of Life and Death
Critic Reviews for City of Life and Death
Audience Reviews for City of Life and Death
Disturbing. Intense. Sickening. This is one of the most harrowing, and unflinching, accounts of human barbarity ever put to film. Solidly done. Definitely not for the squeamish....
Cynthia S.
Super Reviewer
½
A refugee camp comes under siege from the Japanese army during the fall of Nanjing during the Second World War. Beautifully shot in black and white and telling the harrowing story of the mass murder and horrific mistreatment of the population of the Chinese capital, City Of Life And Death can be seen as China's equivalent to Schindler's List but I'd have to say that Spielberg's classic at least had a tale of heroism at its centre. The horrifying events depicted here have more in common with the likes of Downfall; the environment of Nanjing is so hellish, the closest we come to a "good guy" is a Nazi! Based on true events, I'm not sure how much of it is completely accurate as even this hardened cynic found it hard to believe that only a single Japanese soldier acted with conscience or compassion, but Hideo Nakaizumi's performance as the aforementioned protagonist, sickened and traumatised by the actions of his compatriots works well as a way to avoid demonizing the Japanese and as an objective standpoint through which to view the events as they unfold. One of those films that's powerful rather than enjoyable, City Of Life And Death is another in the line of beautifully crafted testaments to man's seemingly infinite capacity for inhumanity.
I finished watching this film two hours ago and the punch in the stomach I received watching it still hurts. I don't recall having received such a punch in my 40 or so years of film watching. Unlike films such as "Schindler's List" or "Empire of the Sun", this film does not take sides. It's like a candid camera operated by an invisible grand master hidden in the crowd or the rubble. It's just there recording events. As a result, despite the fact that it focuses on the big picture, the individual is not lost: Both the Chinese and the Japanese, each and every one of them, in huge crowds are real believable characters. This gives the viewer a grand and horrible sense of presence which is what makes it so painful. It would take courage to watch it again. 5 Stars. 8-7-12
Bruce Bruce
Super Reviewer
City of Life and Death Quotes
There are no approved quotes yet for this movie.