City of Rott
(2006)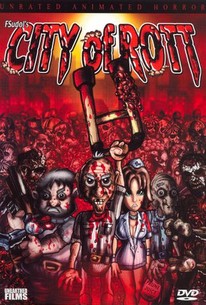 AUDIENCE SCORE
Critic Consensus: No consensus yet.
Movie Info
Experience a whole new twist on the zombie apocalypse as filmmaker Fsudol weaves this animated tale of one old-man's struggle to fend off the living dead. The city has been overrun by parasitic flesh eaters, and with no guns and only his trusty walker with which to defend himself, it looks like Fred is about to become zombie chow. With gore galore and enough gut-munching to make even George A. Romero blush, this blood-soaked terror trip is sure to have horror fans screaming for more.
Critic Reviews for City of Rott
All Critics (2) | Fresh (2) | Rotten (0) | DVD (1)
The gore is plentiful, the animation simplistic, and the plot slim, but it goes down smooth and sweet even if the climax is hard to swallow...
Fun concept, clever execution, unique animation, and tons of gooey gore.
Audience Reviews for City of Rott
Yes it is impressive that one person made an entire animated movie. Well done. That does not mean it is in any way shape or form a good or even passable film. First of all literally the only plus of the film is the way it looks, not the animation but the character design. It's very different but gets tiresome towards the end. So what's so wrong with this film? Let's start with the animation. What we have is essentially a 77 minute film which seems like a flash animation with better graphics. Next up is the sound, at first I thought it was rather good but after 20 minutes of the same repetitive sounds playing I had to turn it down. The annoying techno music which sounded like a computer game didn't help. Although it may be great to see one person make a film it would be better to of had something resembling a story. It tries to be funny by having some old man who talks to his Walker looking for new slippers during a Zombie attack. This idea not only unfunny to start with but runs into some serious problems at 40 minutes when the story arc comes to an end so the last 30 minutes is strewn with filler material. Every bloody scene is also a zombie attack, again making for a painfully repetitive film. Sudol also attempts to do all the voices himself. It sounds awful, he has no comic timing or personality to any of the number of voices he puts on. That's enough of my bitching as it isn't fair to pick on one guy who is no dobt a very hard and dedicated worker. Next time get somebody else to write the screenplay and more people to do the voices and it will be a vast improvement.
Luke Baldock
Super Reviewer
½
I have no idea why I sat through this entire movie. I mean, the animation was kinda cool, I guess, but the main character was a crank, one guy did the voices of everybodyand I saw the big 'twist' within the first 15 minutes of the movie. I guess seeing an old man beat up zombies with a walker is fun to watch. And the gore was animated really well. Overall, there wasn't much else to like about this.
Emily Armstrong
Super Reviewer
City of Rott Quotes
There are no approved quotes yet for this movie.