Claire's Knee (Le genou de Claire)
(1971)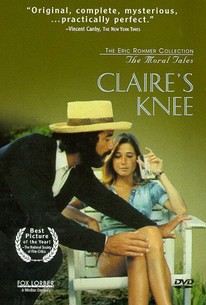 Claire's Knee (Le genou de Claire) Photos
Movie Info
The fifth of Eric Rohmer's "Six Moral Tales," Claire's Knee is a deliciously Rohmeresque story of sexual obsession. French diplomat Jerome (Jean-Claude Brialy), on a resort vacation, meets Claire (Laurence De Monaghan), the teen-aged daughter of a friend. Though engaged to be married, Jerome falls hopelessly in love -- not with Claire, but with Claire's knee. Realizing that to be revealed as a fetishist would be ruinous for him, Jerome does not act upon his obsession. Eventually he gets to fulfill his yearnings by placing his hand upon Claire's knee, a gesture which she assumes is out of sympathy for a personal crisis she is going through. Originally released as Le Genou de Claire, this film was the recipient of the Prix Louis Delluc and the Prix Melies.
Critic Reviews for Claire's Knee (Le genou de Claire)
Audience Reviews for Claire's Knee (Le genou de Claire)
½
Eric Rohmer. I get it, I like his sensibilities, and I think he is an important filmmaker. But "Claire's Knee" is just grueling for me. I found nothing to latch onto. I though the way the characters spoke was the farthest thing from reality. I also don't mind slow films, but this was slow for almost no reason. I know people will jump to disagree with me, but the story, while simple, could have used just a tad bit of flare- at least from the actors. I don't know, nothing about the film struck me as engaging or emotional. I understood the message perfectly fine, but to make it meaningful I needed a touchstone of some sort and it was sorely missing.
Steven Carrier
Super Reviewer
Extremely poetic,disturbing to the sense of tripping controversies,aye,we do realize censorship committees the judgmental issue of age difference and there is passion between....almost all in this film.It remains a gem of spiritual liberty though and you better get some immorality lesson.
Dimitris Springer
Super Reviewer
It was okay. I fell asleep watching it once and had to finish it a different day. It was sorta like a French "Lolita" without the sex, and much less interesting.
Claire's Knee (Le genou de Claire) Quotes
| | |
| --- | --- |
| Jerome: | I thought to myself that every woman has her most vulnerable point. For some, it's the nape of the neck, the waist, the hands. For Claire, in that position, in that light, it was her knee. It was the magnetic pole of my desire, the precise point where, if I could pursue this desire, I'd have placed my hand. And right there is where her boyfriend had his hand. In all his innocence and insipidness. That hand was above all insipid, and that shocked me. |
| Aurora: | It's very simple. Place your hand on her knee. That will exorcise the desire. |
| Jerome: | It's not simple at all. That's the hardest thing to do. A caress has to be accepted. It would be easier to seduce her. |
| | |
| --- | --- |
| Aurora: | I find all men attractive. That's why I can't pick one. Why one and not another? I need a reason to choose one specific man. Since I can't have them all, I prefer to do without any. |
| Jerome: | That's quite unnatural, and quite immoral. |
| Aurora: | Hardly immoral, since it keeps me chaste. |
| | |
| --- | --- |
| Jerome: | The heroes of a story are always blindfolded. Otherwise they'd attempt nothing. The plot would stall. |
| Aurora: | Actually, everyone wears a blindfold.Or at least blinders. |
| Jerome: | Except you, since you write. |
| Aurora: | Yes, writing forces me to keep my eyes open. |
Discussion Forum
Discuss Claire's Knee (Le genou de Claire) on our Movie forum!