Dodes'ka-den (Dodesukaden)
(1970)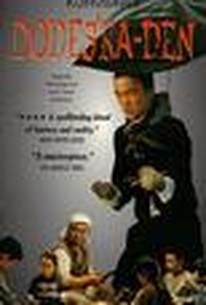 Dodes'ka-den (Dodesukaden) Photos
Movie Info
Dodes'ka-Den (aka Dodesukaden) was Japanese filmmaker Akira Kurosawa's first project since Red Beard (1965), and his first ever in color. Kurosawa focuses this time on Tokyo slum life. We watch as a variety of unfortunates debase themselves to survive, yet, somehow, emerge with more innate dignity than the so-called "better" people. While it seems inconceivable that Dodes'ka-Den would fail at the box office, fail it did upon its original release. The Japanese distributors hastily pared down the film's 244 minutes to 140 (unfortunately destroying the original negative in the process), but this version also came a cropper. It was the negative reaction to Dodes'ka-Den, which allegedly prompted Kurosawa to attempt suicide. Happily, he survived to reclaim his industry stature with 1976's Dersu Uzala. ~ Hal Erickson, Rovi
News & Interviews for Dodes'ka-den (Dodesukaden)
Critic Reviews for Dodes'ka-den (Dodesukaden)
Audience Reviews for Dodes'ka-den (Dodesukaden)
This film is likely to divide people into those who love it and those who hate it. On the one hand, you have to admire Kurosawa's unflinching portraits of Tokyo's poor, and his gentle humanity. He presents those at the bottom in a simple way that reflects how all of mankind is in this set of overlapping vignettes, from the alcoholics and rapists to the steadfast and wise. We find ourselves disgusted with revulsion in one scene, and in the next moment empathetic to the pathos of dreams that will never come true. I enjoyed most the story with the young girl exploited by her uncle (and step-father), which had real tension. 'Dodes 'Ka-Den' reminded me of another Kurosawa film, 'The Lower Depths' from 1957, and just as in that film, amidst those living in squalor ('les miserables' if you will), there is a sage who exudes calm and wisdom. In this film, among other things, he helps a man he finds robbing him at night, and teaches another that he really doesn't want to commit suicide. There are Buddhist overtones here; the acceptance of people's weakness, the wisdom of seeing their positive sides (such as when the husband defends his rude wife in front of his colleagues), and the wisdom of compassion, and helping others. On the other hand, the film is bleak, and at 140 minutes, becomes a little tough to sit through. You hate to think of others destroying an artist's vision, but it's hard to fathom the original 244 minutes. One of the more ponderous stories has a man and his son seriously ill from food poisoning, with both of them in garish makeup, and dreaming of a mansion on a hill. Kurosawa overplays it by going back to visions of the mansion several times, and I think it would have been much more powerful had this concept been limited to a single scene. Another story I wasn't fond of had a couple of drunken laborers swapping wives on a whim; while the intent may have been to shock, the entire story falls flat and is dated. Lastly, while there is symbolism in the mentally challenged boy believing he's a tram conductor (from which the title derives), this story is never developed and is also predictable. I see both sides and end up in the middle in my review score. I would not want to watch the film again, and would only recommend it to a Kurosawa fan, which is not a good sign. The film is just a little too understated in its lessons for its length, and too uneven in its story-telling. The use of primary colors and simple sets may have been meant to heighten the feeling of desolation, but it also means a film with few moments of beautiful cinematography. It's sad to me that its poor reception, building on top of the 'Tora! Tora! Tora!' fiasco, was one of the factors that drove Kurosawa to attempt suicide the following year. If anything, it's interesting as a snapshot into the director's life, and his subtle philosophical message.
Antonius Block
Super Reviewer
½
Watched most of this. Interesting, but couldn't entirely warm to it. A lot happening, yet nothing.
Nicki Marie
Super Reviewer
½
With "Dodes 'Ka-Den," Akira Kurosawa goes against the grain in depicting a shantytown, with only a handful scenes set outside of its boundary, by not going the neorealist route. Instead of muting the color schemes to make the situation look as bleak as possible, the color palette here is as bright as possible to connote a vibrant, if struggling, community. This does not mean he is romanticizing or glamorizing the lives of the denizens, as the tragedies and heartbreaks of their daily lives take center stage in a series of vignettes. And the first scene of "Dodes 'Ka-Den" sets the stage for everything else that follows with a young man(Yoshitaka Zushi) praying with his mother(Kin Sugai) before going off to work. But it is an imaginary job, as he only dreams of driving a trolley(dreams play a huge role in the movie), venturing away from home as the viewer is introduced to his fellow characters. With him, Akira Kurosawa seems to be saying that as long as he is not hurting anyone, where is the harm? This stands for the other characters, too, despite their flaws and handicaps.
Dodes'ka-den (Dodesukaden) Quotes
There are no approved quotes yet for this movie.