Close Your Eyes
(2002)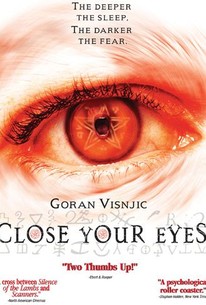 Movie Info
A hypnotist with psychic talents is drawn into a criminal case with bizarre implications in this thriller from Great Britain. Dr. Michael Strother (Goran Visnjic) is a psychologist and hypnotherapist who has relocated from the United States to England after an ugly incident in which a boy under Strother's care died while swimming, possibly due to a mistakenly triggered hypnotic suggestion. Strother sometimes sees visions which he believes are images from the minds of his patients, and while hypnotizing Janet Losey (Shirley Henderson), a police detective who is trying to give up cigarettes, he sees a terrifying vision of a girl trapped beneath the surface of a stream. Strother learns that the girl in his vision is Heather, a teenager who has recently disappeared; when found, she's disoriented, unable to speak, and has strange new tattoos on her arms. Despite the pleas of his wife Clara (Miranda Otto) to keep his distance, Strother becomes involved in the case, and with the help of Elliot (Paddy Considine), a dealer in fantasy games, he learns that the bizarre gibberish Heather has been spouting are part of the rituals of an outmoded religious rite. As Strother and Losey dig deeper into the bizarre crime, they're led into a twisted web of intrigue, violence, and religious fanaticism. Hypnotic was adapted from the Madison Smartt Bell novel Doctor Sleep, which was also the film's working title.
People Who Like this movie also like
Critic Reviews for Close Your Eyes
Audience Reviews for Close Your Eyes
Interesting thriller, nice twist.
Chosen 718
Super Reviewer
i quite liked this film its different but i guess not memorable though
Film Crazy
Super Reviewer
½
A cheap and pretty crappy British occult thriller about a psychic hypnotherapist helping the police to catch a serial killer of little girls. I must have missed the ritual significance of the girls to the killer's design in amongst all the arcane gibberish spouted, but I can't say my attention was especially rapt; something about blood transfusion and eternal life, I think. The acting varies from so-so to dreadful, with Shirley Henderson especially weak and even the often excellent Paddy Considine failing to register. The photography is very drab, but its general realism is consistently undercut by glaring, mediocre, digitally-manipulated backdrops.
Close Your Eyes Quotes
There are no approved quotes yet for this movie.