Cobra Verde
(1987)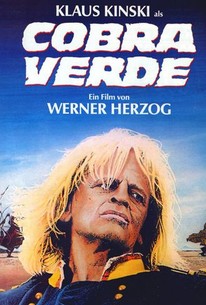 Movie Info
When Francisco Manoel de Silva (Klaus Kinski) impregnates the three daughters of his plantation-owning employer, he is sent to West Africa to round up slaves. The irate land baron hopes the cynical and libidinous Francisco will meet certain death in the African jungles at the hands of hostile natives. Francisco instead manages to overthrow a mad monarch and set himself up as king. Despite enslaving the tribe, he shows signs of humanitarian benevolence. The character portrayed by Kinski in this feature is a cross between his insane portrayal in Aguirre and the comic madness in Fitzcarraldo. Francisco tries to escape from the natives when his employer swindles him and slavery is abolished. This fifth and final collaboration between director Herzog and Kinski is considered the weakest of the five features.
Critic Reviews for Cobra Verde
Audience Reviews for Cobra Verde
"Cobra Verde" may be unjustifiably obscure, but it's also no match for its heralded older brothers "Aguirre: The Wrath of God" and "Fitzcarraldo." Director Werner Herzog and enfant terrible Klaus Kinski are teamed for the fifth and last time, but the chemistry seems off. "Cobra Verde" has a more complex story than "Aguirre" and "Fitzcarraldo," despite having a similar plot about a driven fanatic undertaking a seemingly impossible mission. Kinski plays the title character, a roaming South American bandit who takes a job at a sugar plantation, only to fall out of favor after he impregnates the boss's daughters. As a result, he is pressed to sail overseas to barter slaves from Dahomey. It is expected that he will not return alive. Settling down in Africa, he becomes embroiled in a conflict between two rival kingdoms, and his original objective fades away in the chaos. Kinski's performance is a bit erratic -- sometimes he's a man of sullen intimidation, other times he's the feral lunatic we expect -- and Herzog fails to get inside his head, instead seeming more interested in choreographing large crowd scenes. The rites and costumes of the natives *are* fascinating, but the illusion is punctured when they speak to Kinski in perfect German. Even Popol Vuh's droning soundtrack seems indifferent next to the group's masterful work on earlier Herzog projects. The film's quirkier virtues include a goat receiving communion and a tribal girl's choir so shockingly charismatic that one wonders why they didn't follow Ladysmith Black Mambazo to international success. Hey, they even worked topless.
Eric Broome
Super Reviewer
½
The problem with this film is the main character. Kinski does a great job but he feels two-dimensional and seems to go with the flow rather than having any actual goal - ala Forrest Gump. Fortunately, Herzog's skills as a director are in full flow here and there are countless lingering shots of absolute beauty that seem to strain the camera lens as he tries to encompass the entire scene. Visually, it's a wonder, but it lacks a soul.
Marcus Woolcott
Super Reviewer
½
Pure unadulterated delightful madness.
Ken Stachnik
Super Reviewer
Cobra Verde Quotes
There are no approved quotes yet for this movie.