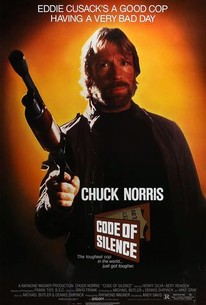 Code of Silence
1985, Crime/Drama, 1h 41m
20 Reviews
5,000+ Ratings
Where to watch
Rent/buy
Subscription
Rent/buy
Rate And Review
Movie Info
In Chicago, honor-driven Sgt. Eddie Cusack (Chuck Norris) and his team stake out a drug exchange involving notorious drug czar Luis Comacho (Henry Silva). Cusack is caught off guard, however, when rival Mafia kingpin Tony Luna (Mike Genovese) and his disguised crew show up, unleash a torrent of gunfire on Comacho's crew and make off with both cash and cocaine. Now Cusack must fight both gangs -- and corruption in his own department -- in order to stop the drug war.
Audience Reviews for Code of Silence
Before Nico:Above the Law, Under Siege and the Fugitive, Andrew Davis got his start with Chuck Norris in his hey-day with Code of Silence, a Chicago gangster/cop flick with more than passing semblance to Seagal's Nico. Chuck play honest tough cop whoes having a terrible day, dealing with a possible conspiracy in his own unit to cover up a friendly fire incident, a new rookie under pressure, and two warring mob families ready to take the fight to the streets of Chicago, and noone is talking, and Chuck is pretty much on his own as the mobsters number against him, and his fellow police officers close their ranks around him to protect one of their corrupt own. I guess Im drawn to this is because of Andrew Davis' down to earth raw film making infused with good old action and the 80's theme. Chicago comes alive again as it had with Nico, an above average plot played out okay, this is defintley an underrated 80's classic, the unloved grandaddy of cop thrillers which should deserve appropriate recognition. With Chuck leading the way and supported by the usual bad guy in Henry Silva (Nico Above the Law) and the well known Dennis Farina, its a good old fashioned cop thriller with better one liners, a very funny moment of two idiots trying to stick up a "cop" bar and Chuck pretty much doing what he does best. enjoy!

i was quite disappionted with this one as i've seen quite a few chuck norris movies and they were all better than this! the story is patchy at times and there's a few scenes where it's just plain dull

One of Chuck Norris's better films. Fast, furious stuff which may well be implausible and formulaic, but is so well-handled you don't mind.
See Details