Codependent Lesbian Space Alien Seeks Same
(2012)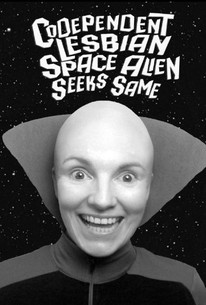 Codependent Lesbian Space Alien Seeks Same Videos
Codependent Lesbian Space Alien Seeks Same Photos
Movie Info
Codependent Lesbian Space Alien Seeks Same follows the adventures of three lesbian space aliens on the planet Earth, and the story of the romance between Jane, a shy greeting card store employee, and Zoinx, the woman Jane does not realize is from outer-space. Meanwhile, two government agents, or 'Men In Black,' are closely tracking Jane and the aliens while harboring their own secrets. -- (C) Official Site
Critic Reviews for Codependent Lesbian Space Alien Seeks Same
Audience Reviews for Codependent Lesbian Space Alien Seeks Same
This film is one of those secret gems hiding in the deep depths of Netflix destined to become a cult classic by word of mouth, an accidental discovery late night Saturday curled up with Netflix, or just by adventurous viewers who seek out low budget indie fares. What we have here is a lighthearted film, with nothing to do with the politics of sexuality (which I expected) but more concerned about the "human" and in this film even the "alien" desire for connection to another person. There's some great witty dialogue to be had here, along with very very funny gags. All of it is a wrapped up in a film that pokes fun at the Z grade Sci Fi films from the 50s and 60s. Im sure somebody else already said this, Ed Wood would be super proud. Haven't heard of Ed Wood?!! I suggest you look him up!.
Tracy Williams
One line summary: Seventy-six minutes of not funny. ------------------------- Inhabitants of an alien planet decide that their ozone depletion can only be solved by one or two of their race having their hearts broken. Zoinx and Zylar are dispatched to Earth to have their hearts broken. Zoinx meets Jane and eventually gets to know her somewhat. Two men-in-black types observe this process, and attempt to blur the memories of any sightings. It seems, though, that no intervention is needed; nobody notices anything in this film. Jokes are made about new foods: alcoholic beverages, coffee, desserts. Jokes are made about culture clashes. All jokes failed. The aliens go home by means that challenge the lower bounds of all SFX. This was one of the worst SFX films ever made. In the right hands, that might have been funny. ------Scores------ Cinematography: 2/10 Greyscale, so-so in quality. The quality dropped off when the camera work switched to shaky cam. Sound: 2/10 Irritating electronic music. Irritating alien voices. Irritating background rap music. Acting: 0/10 Screenplay: 0/10 Nothing comedic, nothing engaging, nothing informative, nothing touching.
Ed Collins
Codependent Lesbian Space Alien Seeks Same Quotes
There are no approved quotes yet for this movie.
Discussion Forum
Discuss Codependent Lesbian Space Alien Seeks Same on our Movie forum!