Coffin Rock
(2009)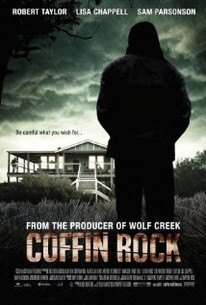 Movie Info
A drunken one-night-stand has potentially deadly consequences in this thriller from writer and director Rupert Glasson. Rob (Robert Taylor) and Jess (Lisa Chappell) are a married couple who run a general store in a small fishing village on the Australian coast. While Rob and Jess love one another deeply, they want to have children and their inability to conceive after three years of trying has caused tension to slowly build between them. One day, Evan (San Parsonson), a handsome young drifter, arrives in town looking for work. Jess gives him some odd jobs at the store, and the two strike up a friendship. One night, Jess sees Evan at a local tavern, and after a few drinks too many, they end up sleeping together. Wracked with guilt, Jess makes clear that she considers her infidelity to be a mistake and won't allow it to happen again. But Evan goes from being sweetly infatuated with Jess to becoming dangerously obsessed, and she's not sure how to get rid of him without letting her husband know what happened. However, Rob may find out whether Jess likes it or not when she discovers a few weeks after having sex with Evan that she's pregnant. Coffin Rock received its United States premiere at the 2009 Chicago International Film Festival. ~ Mark Deming, Rovi
Critic Reviews for Coffin Rock
Audience Reviews for Coffin Rock
Cast: Robert Taylor, Lisa Chappell, Sam Parsonson, Terry Camilleri, Geoff Morrell, Joseph Del Re, Jodie Dry, Guy O'Donnell, Peter Green Director: Rupert Glasson Summary: A moment of weakness breeds unexpected terror for happily married Jessie Willis (Lisa Chappell) and her longtime husband, Rob (Robert Taylor), when she sleeps with a young stranger named Evan (Sam Parsonson) and finds herself pregnant with his child. The pregnancy is problematic enough, considering Jessie and Rob have been trying for years to conceive. But then Evan reveals himself to be an unstable stalker. My Thoughts: "The movie has received mixed reviews. I happen to be one who enjoyed it. The movie gave me chills. Sam Parsonson was really creepy and totally believable in his role. The guy has some major psychological problems and obviously some daddy issues as you will see in the film. I have seen many stalker/psycho killer films, but this one was definitely one of the better ones that have been made. For a low budget, independent, Australian film it was a pleasant surprise. Give the film a chance. WARNING: For animal lovers who don't like watching films with animal violence, there is a disturbing scene having to do with a baby kangaroo. It's a disturbing film."
♥˩ƳИИ ƜѲѲƉƧ♥
Super Reviewer
½
Not tense or thrilling, Coffin Rock mixes some well rounded drama with ridiculous and laughable "horror". The Oirish madman has some delightful hilarious monologues as he slips into comic madness. The idea of the couple trying to conceive is interesting, and it could have made a great thriller. If only it hadn't revealed the loony's intentions so soon. It should have built upon a fairly absent character, rather than showing us a vicious Kangaroo beating to begin with. Anything after that just seemed tame by comparisons. Not exactly worth your time.
Luke Baldock
Super Reviewer
boring so no wonder its slipped under the radar! But this is a tense psychological thriller at best its just a really poor thriller its so boring! The storyline is unorignal and its all been done before, the acting is ok and although the irsh guy is a psychopath it doesnt make this movie any more interesting! This guy picked the victims in a fertility clinic and follows them to this remote willage and starts making friends with this woman who he eventually has sex with but when he discovers shes pregnant assumes it his and goes to many lengths to destroy her life by stalking her and everything! Not very good and not a very good thriller boring as hell!
Film Crazy
Super Reviewer
Coffin Rock Quotes
There are no approved quotes yet for this movie.