Collateral Beauty
(2016)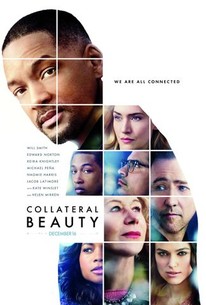 Movie Info
When a successful New York advertising executive suffers a great tragedy he retreats from life. While his concerned friends try desperately to reconnect with him, he seeks answers from the universe by writing letters to Love, Time and Death. But it's not until his notes bring unexpected personal responses that he begins to understand how these constants interlock in a life fully lived, and how even the deepest loss can reveal moments of meaning and beauty.
News & Interviews for Collateral Beauty
Critic Reviews for Collateral Beauty
Audience Reviews for Collateral Beauty
Although January has been known to be the dumping ground for films that studios don't believe in, December has also become that month as well. Yes, December and January is usually when you can go to any cinema and find a handful of films that will be nominated for #Oscars, ensuring your satisfaction at the movies. Having said that, smaller studio films are placed next to a huge blockbuster, because they don't know where else to place it. After seeing a few trailers for Collateral Beauty it truly made me think it was going to be a very enjoyable time at the theatre. Sadly, there is a reason that it was released alongside Rogue One: A Star Wars Story, not due to the fact that it wanted to compete for best quality, but because it really won't end up finding a huge fanbase. Why? Collateral Beauty is one of the most manipulative films I have seen in a long time. Let's dive in. Minor spoilers to follow. Read at your own risk. The plot of this film will be jarring to explain for those who don't know, because the trailers have technically been lying to you. Making it out to be a happy-go-lucky film about a man who has lost a child and is visited by embodiments of love, time, and death, Collateral Beauty masks its actual story, which really is about a man who is grieving the loss of his daughter, but also is about to lose his company, due to lack of focus. His employees gather together and hire actors to portray the embodiments of love, time, and death in order to stoop to his level after he writes letters to these "things." Not only is this a very mean-spirited film in my personal opinion, but it also takes away the magic of what the trailers advertise, even if that story would have been cheesier. If I had to choose between a mean-spirited or a sappy film, I would have choose sappy every day of the week. Although I have to admit that I disliked this film overall, the biggest compliment I can give Collateral Beauty, is the fact that it kept pulling me back in, due to the terrific performances. Everyone in this film seems to be giving it their all here, especially Will Smith. He is a man of very few words here, but his expressions and few scenes of complete mental and emotional breakdowns were truly heartbreaking. Helen Mirren, Keira Knightley, Michael Pena, Edward Norton, Kate Winslet, Naomi Harris, and Jacob Latimore all give commendable performances, and play off of each other in quite a believable way. Sadly, looking back on this film, these performances are what made this bore of a film watchable. Sure, the film is competently made, but there was so much room for expansion. The most frustrating aspect about Collateral Beauty was the amount of side stories with every character. The core story here is about Howard (Will Smith), but everyone else receives just as much screen time as him in order to develop their relationships outside of work. These people are supposed to be his friends, yet they do a very mean thing to him, and yet we are also supposed to care about their personal lives, while the story needs you to care about Howard the most. On top of that, just so that the film can have a big reveal in its final act, Howard's backstory is completely glossed over and given to the audience periodically throughout the film. This made the film extremely messy and I hardly found myself emotionally invested in any of it. In the end, Collateral Beauty it far too manipulative to fully enjoy and although I undoubtedly admired the fact that this is an original film, it was too messy to connect with me. I didn't like this film very much, but the performances are all terrific and while they do belong in a better film, that is the sole aspect that kept latching me on. I was able to grasp onto a few elements and Will Smith made me shed a tear for an instant, but only due to the fact that he committed himself to this role. The story itself is completely lacking depth and should have stuck with a more spiritual route in my opinion. It is competently directed by David Frankel, but sloppily constructed by writer Allan Loeb, who has actually made a couple films I have enjoyed in the past, such as 21. I found myself going back and forth between liking and disliking Collateral Beauty, but in the end, it is completely forgettable and I'll probably never find myself revisiting it. I can't get myself to recommend this film to anyone, but if you are a fan of any of these actors, you'll at least enjoy their performance. This is a mediocre premise that needed some tweaking, but ultimately even falls short of that pedestal as a whole.
Ultimately this movie offers little surprises, but it's pretentiousness and feel good vibe might be enough to sway you into enjoying this A lister and heart felt film.
Film Crazy
Super Reviewer
Trauma and grief are common colors in the palette of screenwriting. Wounded men and women overcoming loss and sorrow allow us all an opportunity to learn and heal through someone else's personal pain and suffering. It's the movie theater as therapist's office with art serving as catalyzing event to help those in need. When 2006's United 93 was released many critics thought it was too soon for a dramatic recreation of the events of 9/11. First, there's never a right estimation for how long the world of art should wait to respond to shared tragedy, but I argued that United 93 could function as a facilitator for healing for select moviegoers. It helps to be able to live vicariously through fictional characters on screen, and it makes us smile when they overcome those obstacles and give hope to the rest of us. Two new movies have taken very different paths to explore responses to trauma onscreen. Collateral Beauty is a star-studded affair built from a screenplay that sold for an estimated three million dollars. Manchester by the Sea premiered at the Sundance film Festival and blew away audiences with its understated and unsentimental portrait of loss. One of these movies goes big and miscalculates badly and the other delivers one of the better, more emotionally involving films of the year. I think once you hear the premises it'll be clear which is which. In Collateral Beauty, Howard (Will Smith) is an advertising guru still reeling two years later from the unexpected death of his six-year-old daughter. He's become a hermit who furiously rides his bicycle into traffic to tempt fate. He shuns his old friends and minority partners, Whit (Edward Norton), Claire (Kate Winslet), and Simon (Michael Pena). He also writes angry letters to the concepts of Death, Time, and Love to note his general displeasure. Major accounts are lost because of Howard's seclusion and now it looks like the whole company might go under unless they accept a stock buyout. Howard refuses to sign off on the purchase, which forces his trio of friends to hire struggling actors to play "Death" (Helen Mirren), "Time" (Jacob Latimore), and "Love" (Keria Knightley). These three personified connects will converse with Howard to provide an unorthodox therapeutic breakthrough. The actors will be paid handsomely and they relish the challenge. If that doesn't work, they will record his public feuds with the actors, digitally erase the actors, and make it seem like he's gone crazy with grief. Along the way, Howard gets closer and closer to talking about his loss in a support group run by the saintly Madeleine (Naomie Harris), a woman also suffering the loss of her child. If the universe is all about making connections, Howard is on a collision course with the fates. Few films have dropped in estimation so precipitously in my mind as Collateral Beauty. To its credit, while you're watching the movie you don't notice as many of the misguided manipulations from prolific screenwriter Allan Loeb (Things We Lost in the Fire, Just Go with It). You're aware of their presence but they don't remove you from the movie, that is, until you extend further thought on the full implications. Allow me to simply vocalize in print the Christmas Carol-esque premise of this "feel good" holiday movie.t-collateral-beauty "A group of wealthy advertising executives scheme to get their grieving mentor and friend declared mentally incompetent so they can sell their company. They hire duplicitous actors to pose as metaphysical concepts, engage with Howard in public, and then they will digitally erase the presence of the actors, making it look like Howard fits the lazy man's definition of crazy. And these people are the heroes." The characters give plenty of rationalizations for why they're forced to set up their supposed friend, mostly about saving the company and saving jobs. Simon especially needs the money and medical insurance with where he's headed. Howard is spiraling and they worry that he will take down everyone with him. That's fine, but why do they resort to the outlandish and ethically dubious practices that they do? The hiring of actors seems like a helpful therapeutic exercise on the surface, unless you stop and think about a grieving man badgered by an antagonistic universe. Howard is already exemplifying mentally unsound behavior so I don't know why the public spats are required. The digital erasure constitutes explicit fraud and it feels so much grosser. It's an expensive step to provide visual evidence of a man having a nervous breakdown. They could have simply recorded Howard in his office for a week while he builds elaborate domino structures just to watch them topple (symbolism!). Even the characters call-out one another for this gaslighting trick. On another note, won't Howard eventually find out? What if some enterprising digital effects editor has a moral crisis and confesses? This is the equivalent of false documents forged to push the rich old lady into the booby hatch so her scheming relatives could abscond with her vast fortune. It's even more egregious when Collateral Beauty presents these characters as the heroes. Yes they have different degrees of guilt but that is tamped down by their moral relativism justifications. It makes it a little harder to swallow all that outpouring of cloying sentiment later. These murky and misguided manipulations will symbolize much that is wrong with the movie. I hope the audience is prepared or Smith to be sidelined for much of the movie because Howard is more a supporting character in someone else's story. Howard is really more a catalyst than a fully developed character. He grieves, he suffers, but his point is how his grief and suffering affect others, which is a strange tact to take. His journey is quite similar to Casey Affleck's in Manchester by the Sea. He must come to terms with loss, accepting the reality of that cruelty in order to move forward and let others in. Moving on doesn't mean we forget, especially when that trauma is a loved one's loss, and Howard holds onto that pain for so long as a means to still feel his daughter's presence. It's an acceptable character conceit but it flounders in the movie because EVERYONE simply talks at Howard. Smith's asked to be teary-eyed and mute for most of the picture. Any significant breakthroughs, developments, or even passing of information occurs from others applying meaning to this sad silent man who must not remain sad. As a result, the movie pumps up the supporting characters and pairs them with one of the actors. "Death" relates with Simon for him to accept his declining health and to allow his family to know. "Time" relates with Claire over her worry that she's sacrificed starting a family by prioritizing her career (this is another film world where nobody puts serious consideration into adoption). I need to stop and question this particular storyline. Doesn't it feel a bit tacky and outdated? It's also, by far, the storyline with the least attention; we literally see Claire glance at a sperm donor brochure and website for a scant few seconds and that's it. Then there's "Love" who relates with Whit to try and get him to repair his relationship with his rightfully angry young daughter after Whit cheated and broke up his marriage. "Love" literally just goads Whit to actually try being a parent and accept some responsibility for his failings. That it, and she has to use the incentive of a date to convince him to try and be a better father (Whit sloppily hitting on "Love" definitely lays a plausible peak into why exactly he's divorced). "Death" and Simon play out the best mostly because Mirren is impishly amusing, and also benefits from naturally being Helen Mirren, and Pena's character is given the most sincerity. He has the most at stake personally and setting things right for his family is taking a toll. Loeb has given each actor something to do, and the talents of the actors are enough that I was distracted from the overall machinations at least until the very end. For most of its relatively brief running time, Collateral Beauty has kept to its own form of internal logic and avoided blatantly manipulative calculations for heightened drama. Sure Pena's first instance of movie cough is an obvious telegraph to more astute members of the audience, but it makes some sense since this is less our real world and more the well-sculpted Movie World. Then the final ten minutes play out and the movie doesn't just skid, it steers into this skid of counterfeit sentiment. I'll refrain from spoiling both of the major reveals but they both serve to make you rethink everything. It's not one of those eye-opening twists but more something my pal Eric and I were dreading in our seats, mumbling to ourselves, "Please please don't." These final two reveals are completely unnecessary. They disrupt the tenuous reality of the movie and the balance of tones becomes a mess. It also divulges how overly constructed the screenplay really was, designed to lead an audience to these chosen end points that don't engender catharsis. It's about pointing out how clever the screenplay was rather than the emotional journey. Neither twist serves strong narrative purpose other than to be out-of-the-blue surprises. Let's get to that ungainly and clunky title. It's a nonsense pairing of words that's meant to sound profound but is really just confusing and remains so even though the characters repeat this clumsy phrase like eight times. There's a conversation where it appears in every sentence, as if repetition alone can make this phrase/idea successfully stick. It doesn't. I think I understand what it means, or at least what Loeb was going for, but I'm not sure. Madeleine talks about making sure to see all the collateral beauty in the universe, but is this merely a more obtuse way of restating Wes Bentley's floating plastic bag declaration in American Beauty? Is it a more pretentious way of saying to stop and smell the roses? Here's where I thought it was going with its meaning: "collateral" in this sense means accompanying and instead of accompanying damages we're focused on the accompanying beauty, therefore a contemplation of the possible helpful ramifications. This was going to make sense for Madeline since she uses her personal tragic experience to reach out and help others heal through their own tragedies. It's the long ripples of human kindness reaching out far beyond our initial actions. And maybe, juts maybe, Howard and Madeleine would become romantically linked through coping with their similar heartache. However, the movie's real ending torpedoes this interpretation. What we're left with is a clunky pairing of words that still makes little sense by film's end. Collateral Beauty is probably the best-looking Hallmark movie you'll see at the theaters this holiday season. It's a gauzy and manipulative endeavor packed with movie stars doing their sad and redemptive best before hopefully cheering you up. There's nothing that can't be overcome with a good group of friends who only want what's best for you while they take part in a criminal conspiracy to defraud you of your business stakes. That's because even the most nefarious of behaviors can be forgiven with the right actor to provide a twinkle of the eye, a little swooning musical score to tell the audience how and when to feel, and the backdrop of lightly swirling snowfall. It's a universe that refuses to allow Will Smith to stay sad and so it intervenes. Collateral Beauty has its draws, namely its core of great actors who each find some point of emotional grounding to their character's plight. The finest actor in the movie is Harris (Moonlight) who radiates tremendous empathy and a bittersweet serenity. I'd watch the movie from her perspective. To Loeb's credit, the movie is more grounded and less fanciful than its premise could have lead. It doesn't sink to the depths of a Seven Pounds ("Do not touch the jellyfish"). Waterworks are shed all around, hugs are evenly distributed, and I'd be lying if I didn't feel a lump or two in my throat by film's end. While ostensibly being about two men overcoming the loss of someone close to them to function in everyday society once more with meaningful personal relationships, there's quite a wide divide between Collateral Beauty and Manchester by the Sea. One represents a more calculated and morally dubious reflection of trauma as theatrical game leading to Big Twists that are meant to leave an audience swooning from the magic of reconciliation. While fairly grounded on its own terms for a far majority of its time, Collateral Beauty can't help itself and steers into a ditch of bad plotting, made even worse by the fact that it puts so much significance on its preposterous final destination. It manages to cheapen the movie as a whole in retrospect as an elaborate parlor trick that rivaled what the ethically challenged heroes of the tale were perpetrating. On the other side, Manchester by the Sea is a carefully observed and intimate portrait of grief and the consequences of self-destructive detachment from a larger world of compassion. The acting is terrific and lived in, authentic to its core and stuffed with meaningful details that Lonergan leaves to his audience to formulate. However, some of its indie auteur sensibilities do have a somewhat negative impact on the pacing and ultimate conclusive nature of the movie. It's not that the film is open-ended; it's just a "life goes on" kind of ending that doesn't exactly inspire the strongest feelings of satisfaction. Grief will always be a topic that attracts filmmakers and especially actors because of its inescapable drama, stakes, and general relatabilty. I only implore any readers that if you're trusting filmmakers with two hours of your emotion, make sure they earn that privilege. Nate's Grade: C (originally written as combined review with Manchester by the Sea)
Nate Zoebl
Super Reviewer
Collateral Beauty Quotes
There are no approved quotes yet for this movie.
Discussion Forum
Discuss Collateral Beauty on our Movie forum!