Colonel Wolodyjowski
(1969)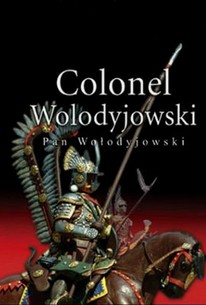 AUDIENCE SCORE
Critic Consensus: No consensus yet.
Movie Info
Polish documentary filmmaker Jerzy Hoffman brought an aura of realism to the sweeping historical epic Colonel Wolodyjowski. Originally running 160 minutes, the film was based on a trilogy of patriotic novels by Henry Sienkiewicz (Quo Vadis?). The story, set in the 17th century, details the bloody struggle on the Eastern border between the Poles and the invading Turkish hordes. Giving the box-office potential of Colonel Wolodyjowski a major boost was the presence in the supporting cast of 24-year-old matinee idol Daniel Olbrychski. Successful in its home country, Colonel Wolodyjowski unfortunately made very little impression outside of Poland; but then, would a biopic of George Washington play well in Warsaw? ~ Hal Erickson, Rovi
Critic Reviews for Colonel Wolodyjowski
There are no critic reviews yet for Colonel Wolodyjowski. Keep checking Rotten Tomatoes for updates!
Audience Reviews for Colonel Wolodyjowski
½
Man, Jerzy Michał Wołodyjowski is as Polish as a name can get. This film is so Polish that the main character and both writers are named Jerzy, and it's about Poland's involvement in a major war. It's kind of easy to forget about how Poland factored into the Ottoman Empire's invasions, but in case you're not already reminded by the fact that Poles have been involved in pretty much every war since Poland was established (I joke, but looking at how popular Polish names are in clichéd war movies, that might be about right), then this film will remind you, for a little over two-and-a-half hours. That would be a much bigger issue if it wasn't for the fact that this film kicked off the film series that featured the three-hour-long "With Fire and Sword" and, of course, the five-hour-long "The Deluge"... or concluded it, depending on how you want to look at it. For its adaptation to the screen, Henryk Sienkiewicz's classic trilogy about 17th century Polish conflicts begins the way it ended, and I mean that somewhat confusing statement literally, although that might be because Jerzy Hoffman just couldn't wait to get around to focusing on everyone's favorite character in this series. For those of you who wanted more of this Colonel Wołodyjowski who was so awesome in "With Fire and Sword" and "The Deluge", you must be reading the books, because you ought to get tired of him after two-and-a-half hours, and you've still got eight more hours to figure out where this reverse spin-off came from. I'm definitely kidding about that business about getting tired of all of this, because this is a pretty darn good series, though not all the way through, because as decent as this film is, for a number of reasons, it isn't the best way to begin... or, uh, end this saga. In my opinion, tonal unevenness has been something of a notable characteristic of this series which has, on plenty of occasions, broken tension with some forced and often flat comic relief, and certainly stands here, though not nearly as firmly as it stands in either of the superior successors. Perhaps the tonal shifts feel a little less jarring in this particular installment because some form of cheese within the melodramatics is as prominent as they ever get to be, because no matter how compelling, this plot hits plenty of superficialities, if not contrivances in its overly romantic conflicts amidst a somewhat overblown take on warfare. The sense of melodrama is exacerbated by a sense of dating that, quite frankly, is brought more to your attention because the film is so edgy as a '60s melodrama in so many areas, only to eventually succumb to cornball dialogue, questionable acting and superficial directorial subtlety issues which can at least be commended for trying to liven up direction. Very often, Jerzy Hoffman falls into dry spells as a storyteller who gets the film going a fair distance, but dries out enough places to dull things out once you realize just how prominent dialogue is over action in this minimalist epic. You at least have time to think about that, because even though this film is pretty decisively the shortest in these adaptations of Henryk Sienkiewicz's trilogy, it's still around two-and-a-half hours long or so, and with the aforementioned dry spells at your back, retarding momentum, you can't help but feel all of the meanderings which threaten a sense of consequence, and went on to threaten the reward value of this film's successors. There were plenty of subtle, but notable improvements in "The Deluge" and "With Fire and Swords" which made some very goo epics, but alas, with this film, Hoffman's touches were still too rusty to compensate for the tonal unevenness, cheese, dry spells and pacing problems which make the final product rather underwhelming. With that said, this film is still endearing, with plenty of criticize, and a good bit to praise, even in concept. Seeing as how I have not read the source material, I honestly can't say if this story concept is as worthy as those of "With Fire and Sword" or "The Deluge", as its value is so heavily obscured by a questionable interpretation, but I can tell you that this is still a conceptually engrossing, if talkative epic which explores biting themes and clever plays on scale about as much as heights in Jerzy Hoffman's and Lutowski's script. This script is riddled with histrionics, inconsistencies in tone, and, of course, fat around the edges, and what it does right is rarely all that outstanding, yet there's still a respectable deal of wit to it, if not an edge that actually freshens things up with genuineness and inspiration. Although the film all too often succumbs to typical superficialities of the time, there are some elements in the script that is, in fact, edgy, and that helps in drawing intriguing characters and an immersive story, whose engagement value is brought to life by, if nothing else, technical value. Mind you, that technical value is a little limited, whether it be because of financial and creative limitations, or simply because this story offers a surprisingly limited degree of scope, but the art direction of this film still manages to nail the dynamic visuals of 17th century Poland, whose scale is particularly played up in the midst of some grand action sequences that might not be those of "The Deluge" or "With Sword and Fire", yet are nonetheless well worth waiting for. Like its successors, this film is pretty chatty, and also like its successors, it delivers when it comes time to really flaunt the consequentiality of this intimate, yet layered epic, and punctuate a tighter dramatic structure whose effectiveness can make or break the engagement value of the final product. Jerzy Hoffman, as director, drops the ball when it comes to living up to the dramatic possibilities of this drama, for his direction is much less edgy than his and Lutowski's writing, yet still manages to reduce a sense of cheese through all around dry spells in atmosphere which retard momentum, but only so much, as Hoffman tightens up many scenes enough to hold some entertainment value, until delivering on powerful dramatic visuals and what have you which resonate, occasionally more so that most of the more effective moments in the more consistently compelling successors. There's a lot of potential being lost here, but there's also a fair bit of potential being fulfilled, and although there's not enough balance here for the final product to truly reward, the final product gets you by as fairly engaging, with somewhat rewarding occasions. In the end... or the beginning, a certain inconsistency in tone and consistency in melodrama, in addition to moments of bland directorial dryness and structural dragging, wear down on the film until it finally falls short of rewarding, despite an intriguing story's being done enough justice by highlights in scripting, art direction, and directorial storytelling to secure Jerzy Hoffman's "Colonel Wolodyjowski" as a decent, yet flawed epic. 2.75/5 - Decent
Cameron Johnson
Super Reviewer
Colonel Wolodyjowski Quotes
There are no approved quotes yet for this movie.
Discussion Forum
Discuss Colonel Wolodyjowski on our Movie forum!