Colonia
(2016)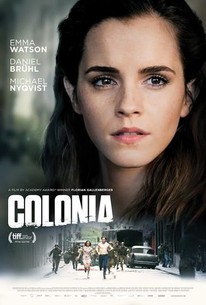 Movie Info
A young woman's (Emma Watson) desperate search for her abducted boyfriend (Daniel Brühl) that draws her into the infamous Colonia Dignidad, an ex-Nazi cult that nobody ever escaped from.
News & Interviews for Colonia
Critic Reviews for Colonia
Audience Reviews for Colonia
For a movie based on real events this thriller actually does not go very deep. The everyday routine on the Nazi-cult Colonia is properly horrifying and the showdown pretty exciting, albeit a tad over the top. But we learn very little about the motivations behind the cult, making it almost cartoonishly evil. That makes for an engaging ride, but also a rather shallow one.
½
Though this competent thriller based on real events does manage to be really tense - almost to the point of suffocating -, the sort of manipulation to achieve that purpose is never subtle, in a way that makes it work purely as gripping entertainment (even if it is undeniably unrealistic).
Carlos Magalhães
Super Reviewer
½
This movie is definitely not what I would have expected, I mean I didn't really read the description on Netflix, but I assumed it was more like dealing with Pinochet's dictatorship. I know a boyfriend was involved, but I felt it was more related to Pinochet's military leadership than it was. I mean it was related, as Daniel was sent to the Colonia Dignidad, literally meaning Colony of Dignity, as a result of the military coup, but the film deals more with the cult-like community of Colonia and its charismatic leader, Paul Schafer. And cult-like isn't even appropriate, because these people at Colonia Dignidad were a cult, through and through, no doubt about it. Paul exercised his power over everyone in order to do as he wanted, regardless of whether or not it actually falls in line with the stuff he preaches as a 'man of god'. Anyway, Daniel gets taken to this community and he's at first tortured to, I think, give up people who supported Allende. The torture is so severe that Daniel is believed to have suffered permanent brain damage as a result, so he's put to work in the community, doing the simplest jobs. It turns out that, of course, Daniel has been faking his mental impairment all along and that actually helps him as people around him are careless because they think he won't do anything with it. Which brings us to Lena. Lena decides that to save the man she loves she will join the organization, which presents itself as a charitable mission, and...I don't know what her plans actually were honestly. She never once states that she's going there to save him, though it should've been easy to assume, but the fact of the matter is that she kinda does this impulsively, without really thinking much about what she was gonna do once she actually met up with Daniel. Of course, once Lena joins the organization, she's put to work and has to live under strict rules. This organization keeps men and women in separate living quarters and they barely interact with each other. And, of course, the women are treated horribly. They're all, according to Schafer, ugly, fat cows, sluts/whores. In spite of all of that, however, I never felt that the movie was ever good at all. As far as I'd go, I'd say that this movie is solid, even though I wouldn't give it a score that reflected what I felt. This is like Titanic, where they use something real as backdrop to their own story and, honestly, the story isn't exactly great or all that interesting. Look, Emma Watson, Daniel Bruhl and Michael Nyqvist are all really good in their roles, I can't complain about their performances whatsoever. But this would make a better documentary. There's a lot of movies like this and this is one of them. I'd much rather see a documentary about the real life Colonia Dignidad and the horrific events that went on in this cult. From the sexual abuse of children to the Colonia serving as a front for the DINA to torture and kill prisoners. That story is more interesting than this one. And I gotta give them props for at least trying to tell a story, but that story hits all the notes one would expect and it doesn't really satisfy as they probably would have expected. They got a great cast of actors, for sure, and maybe they thought that would have been enough to turn the movie into a good one. There's just something off about the movie, something that I just felt that I'd seen before and the storytelling isn't great to begin with. It's just not. Again, gotta give them props for putting in some sort of effort, but that effort doesn't pay off. The film just doesn't pay off in a satisfying manner. Yea, Lena and Daniel managed to escape the cult, but what about those who weren't able to? And it's not like they were dicks about escaping or they just refused to help others, because it was their intention to be Colonia Dignindad down, but it's just something to think about. It is what it is, but the movie is, at the very least, watchable in large part to the really talented leads. They sure do help a lot, even if it never reaches a level where I'd feel comfortable saying it was a good movie. It's on Netflix, so it could have been worse. Watch at your own risk.
Jesse Ortega
Super Reviewer
Colonia Quotes
There are no approved quotes yet for this movie.