Color Me Blood Red
(1964)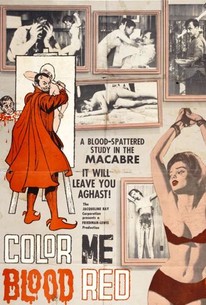 AUDIENCE SCORE
Critic Consensus: No consensus yet.
Color Me Blood Red Photos
Movie Info
The third film in cult director Herschell Gordon Lewis' infamous "Gore Trilogy," this overwrought horror film is one of many inferior derivations of Roger Corman's classic A Bucket of Blood (1959). Don Joseph stars as Adam Sorg, a pompous artist who discovers that human blood provides his paintings with just the right shade of red. The over-the-top splatter includes stabbings, slicings, and evisceration, with Sorg going so far as to squeeze blood from a victim's dangling intestine. Still, the film is not as grim as it sounds, due mainly to the shoddy effects and Lewis' flamboyant direction, which makes every action and line so hyperbolic that it crosses the line from horror into campy self-parody often and with wanton abandon.
Critic Reviews for Color Me Blood Red
There are no critic reviews yet for Color Me Blood Red. Keep checking Rotten Tomatoes for updates!
Audience Reviews for Color Me Blood Red
I was disappointed at the amount of blood in this movie, I really expected more. And I was wondering, wouldn't his painting stink after while? And then no one would buy them. Anyway, the story is pretty good, and the main character is a creepy painter. But overall, this movie's not that good, it's just okay.
½
Too slow and not enough gore to be as good as Blood Feast but it still has some fun moments, including anytime the crazy beatnik couple are onscreen. 'Dig that crazy driftwood!'
Colour Me Blood Red is pretty much the typical Herschell Gordon Lewis film. In Blood Feast, a man killed people to create a feast; in The Wizard of Gore, a man killed people for his magic show; in The Gruesome Twosome, a young retard killed people to make wigs out of their scalps; and here we've got a deranged painter who discovers that blood is exactly the right shade of red to colour his paintings with. This film is the third and final entry in Herschell Gordon Lewis' "Blood Trilogy", and while it is perhaps not as gory as the other two; Blood Feast and Two Thousand Maniacs, if you enjoy Lewis' style, you're bound to like this one! As mentioned, the plot revolves around a painter. He discovers that blood is the paint he needs when he cuts his girlfriend's finger and begins smearing her blood on his canvas. After attempting to 'paint' the picture himself, he soon realises that he doesn't have enough blood - so naturally, he kills his girlfriend. As you might expect, her blood doesn't go too far, and the only way to get more blood is the to kill more women... Obviously, this plot has been lifted straight from Roger Corman's B-movie classic 'A Bucket of Blood', but Herschell's style is all over it, and he succeeds in making the plot his own...although 'succeeds' might not be the right word. The movie is trash in every sense of the word, as the acting is as rubbish as it gets, and the film has a distinctly cheap and nasty feel running throughout it. The director's use of music is good, however, as while it does nothing to increase the film's credibility; it does give the movie a hilarious sense of humour, and it works really well with the plot. As I said, this isn't as gory as some of Herschell's earlier stuff, but it's still got plenty of blood and gore; although as anyone that has seen one of these movies before will know; it's absolutely impossible to take seriously. It's clear that Herschell was more interested in the red stuff than anything else, as there are a number of obvious plot devices on display and the artist's descent into insanity is a joke. But even so, this makes for a very fun viewing, and I wouldn't hesitate to name it as one of my favourite of Lewis' movies.
Cassandra Maples
Super Reviewer
Color Me Blood Red Quotes
There are no approved quotes yet for this movie.