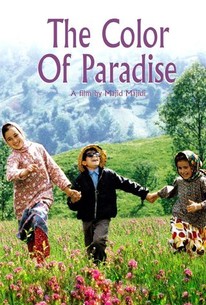 The Color of Paradise
1999, Drama, 1h 30m
31 Reviews
5,000+ Ratings
Rate And Review
The Color of Paradise Photos
Movie Info
"The Color of Paradise" is a fable of a child's innocence and a complex look at faith and humanity. Visually magnificent and wrenchingly moving, the film tells the story of a boy whose inability to see the world only enhances his ability to feel its powerful forces.
Audience Reviews for The Color of Paradise
Despite that my rating may be a misleading indication of the film's qualities, some true facts about Majidi's "family" film are: - He creates intense drama without manipulative melodrama. - It is gorgeously filmed. - It has powerful lessons in between about the importance of the family bonds. - It has a heartfelt score. - It is not your typical drama film. This unfortunately does not exclude the usage of some clichés in the characters and the typical "The Sound of Music" hills scenes in which the main character contemplates nature as an obvious in-your-face reminder about the extraordinary importance of sight, and the appreciation of the things and senses we have in life. The importance of these messages will never wear out, so originality is not an issue here. It is about delivering them in a form transcendent enough to cause a long-term reflection or, in the best of the cases, an emotional perpetuity in the viewer. That is not accomplished here, because the effect is definitely short-term. Yet, the performances by father and son are impeccable, especially by Mohsen Ramezani, the blind boy fighting against indifference and the cowardice of his tormented father, and the imagery is difficult to forget. 74/100

Achieves beauty through simplicity.

This was relatively a great relief after having a head exploding experience through 'The Song Of Sparrows'.

Rang-e Khoda (literal translation from Persian: The Color of God), is an Iranian film well written and directed by Majid Majidi. It is warm, innocently honest drama which revolves around a blind boy named Mohammed. His father takes him home from his special school in Tehran for summer vacation. Mohammed's father, who is a widower, wants to marry a local widow but his blind son is an obstacle because he fears the girl's family will see that as a bad omen. The innocent child touches and feels the nature around him, counting the sounds of animals, and imitating them. He displays a unique attitude towards nature, and seems to understand its rhythms and textures as a language. Going back to the village is not the best choice but... Watch this wonderful movie to see what happens next! Solid acting by Hussein Mahjoub, Mohsen Ramezani, Salameh Feyzi and Farahnaz Safari but the full enjoyment was a little bit spoiled by the really bad camera used... I guess they didn't have better!
See Details