Combat Shock (Fuerza en combate)
(1986)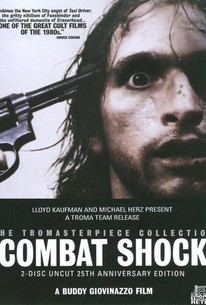 Combat Shock (Fuerza en combate) Photos
Movie Info
This violent film follows the miserable life of a miserable Vietnam vet as it goes from awful, to disgusting, to almost ludicrous (the life and the film). First the vet helps slaughter the inhabitants of a village during the war and then he is captured and tortured for two years. After that scenario, he winds up in a low-life neighborhood in New York owing drug money, saddled with a chunky, nagging, ugly wife and a little baby who inherited his mother's genes. One gory scene follows another until the climax which is meant to be the shocker that caps it all.
Critic Reviews for Combat Shock (Fuerza en combate)
All Critics (5) | Fresh (2) | Rotten (3) | DVD (5)
Giovinazzo's sleazy slice of gonzo filmmaking is a gritty riposte to Reagan's yuppified American Dream.
It's a true American original, a portrait painted in the scum, sweat, and the fears of both its subject and its supporters.
Audience Reviews for Combat Shock (Fuerza en combate)
½
In stark contrast to most of the rest of the Troma catalog this film is a bleak portrait of a war veteran, haunted by visions of war, suffering in poverty and trying to create a decent living for himself and his family. It gets worse though... His first born child is badly deformed due to agent orange that was sprayed on him during Vietnam, he is unable to find a job and is constantly hassled by loan shark goons, all his friends are junkies in just as bad shape as him and he is soon to be evicted from his apartment, with no prospects in site. A scathing critique of America in the 1980's for sure, and not for the feint of heart. Must see for fans of Taxi Driver, Eraserhead, Driller Killer, I Stand Alone, The Bicycle Thieves and others of that ilk.
Ed Fucking Harris
Super Reviewer
½
The film opens to a flashback of the Vietnam war and in particular, one soldier's plights of that war - it is a horrible intense sequence. As the movie progresses, we get to see what has happened to that solider. He is now living with a nagging wife and deformed baby son on the extreme poverty line in New York City. They haven't eaten for days and he wanders the streets, trying to look for work with no luck at all. He suffers flashbacks and hallucinations throughout the film, where he is being tortured in 'Nam and then his supposed recovery in a hospital after. He is cut off from the world and desperate for money. We then meet one of his friends, a drug addict who is in equal dire straits. At one point, the addict uses a coat hanger to open his vein and pour in the drug whilst he bleeds - a truly horrifying moment. This is very strong stuff. It has no budget but that somehow suits the story - it's totally gritty and real, no gloss whatsoever. It's probably the bleakest, most depressing film I've ever seen and all I can say is, if you're having a bad day or work or a bad day in general, just see what happens to this guy! I got the excellent Troma DVD release which features the full uncut Director's version - the only one really worth seeing. I don't know if I'd exactly recommend this; it's so hard going that it sure ain't entertainment, but it does have an appeal and is worth watching. However, if you're not used to zero-budget horror, avoid at all costs.
Cassandra Maples
Super Reviewer
½
This film follows the story of a war veteran who once back from seeing some very horrible things as well as being a prisoner for two years starts to have flashbacks not only that to add to his problems he has a wife thats always on his case some neighborhood toughs that he owes money too a drugged out friend and a deformed child that is the result of him being exposed to gasses during the war untill one day he finally snaps and leaves behind a very shocking ending. This movie released by Troma is low budget and has some bad acting like most Troma movies but this one i would consider a cut above the rest and any fan of cheesy bad movies should check it out
Combat Shock (Fuerza en combate) Quotes
| | |
| --- | --- |
| Frankie's Father: | I don't wanna go back. |
| Frankie Dunlan: | I go back there every night, dad. |
| | |
| --- | --- |
| Frankie Dunlan: | Cathy...I love you. |
| Frankie Dunlan: | Cathy. I love you. |