Come Back, Africa
(1959)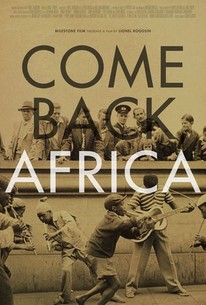 Movie Info
A study of a black man living under apartheid in 1959 South Africa.
Critic Reviews for Come Back, Africa
Audience Reviews for Come Back, Africa
"Come Back, Africa" is something of a historical curio. Filmed in secret in Apartheid-era South Africa in 1959, the film follows Zachariah(Zacharia Mgabi), fresh from Zululand, who is looking for work. First, he ends up at a gold mine where he has no experience but receives brief training before being sent into the mines. His intent is to work in Johannesburg where he can establish a home for his family. To such ends, he asks for help from his supervisor but his first job in the city as an in-house servant ends badly. All of that may be news to those watching in 1959, especially with its references to the African National Congress, and other South African political discussions of the day in response to restrictions on the African population. But to those of us watching in 2012 after the huge amount that has already been written on the subject, there is nothing new here in the movie's episodic structure with its reliance on non-professional actors with occasional musical interludes. Plus, the ending is more than a little sudden.
Come Back, Africa Quotes
There are no approved quotes yet for this movie.