The Comedians of Comedy
(2005)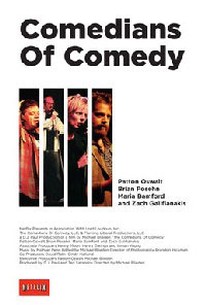 The Comedians of Comedy Photos
Movie Info
Four comics take their offbeat brand of humor on the road in this blend of performance video and backstage documentary. Patton Oswalt, best known for his recurring role on the sitcom The King of Queens, wanted to stage a tour doing his standup material, but was hoping to avoid the strictures of time and material he ran into when playing comedy clubs. Looking for an alternative, he teamed up with friends and fellow humorists Brian Posehn (a former regular on Mr. Show and Just Shoot Me), Maria Bamford (who does cartoon voices in her spare time), and Zach Galifianakis (the star of a short-lived talk show on VH1), and booked a string of dates at rock clubs and college campuses across the country. The Comedians of Comedy features highlights from all four performers' best sets, as well as a glimpse of the ups and downs of life on the road and how they spend their spare time at home. The Comedians of Comedy also provided the jumping-off point for a Comedy Central television series featuring the same four artists.
Critic Reviews for The Comedians of Comedy
Audience Reviews for The Comedians of Comedy
½
This doc is part performance video, part backstage/behind the scenes look at a comedy tour Patton Oswalt did with fellow alternative comics Brian Posehn, Zach Galifianakis, and Maria Bamford. It's really offbeat, weird, and kooky, kind of like the four comics themselves. A lot of the onstage stuff is very dry, but the rest is where I found most of the overt humor to be. It's somewhat lacking when it comes to getting deep insights into these people, and they really are quite weird (especially Bamford, who kinda creeps me out), and perhaps a tad boring when not in performance mode. But overall, it is interesting to see the lives of comedians behind the scenes done shorter and less heavy handed than in Funny People. I did like it though, for the most part. If you like offbeat stuff, then you'll perhaps enjoy this.
Chris Weber
Super Reviewer
Being a relatively recent fan of Patton Oswalt, I was excited to watch this documentary about the tour he did a few years back with Brian Posehn, Zach Galifianakis, and Maria Bamford. Sadly, if you're already familiar with the material then all you get are wacky backstage hijinks, some of which are funny and some which are not. No real insight into the people themselves, other than watching Oswalt and Posehn embrace and discuss their nerdiness on comic shop Wednesdays.
To start here I have to begin by saying comedy is subjective and everyone has their own opinion of what is funny and what is not. Personally, I found this to be a terrifically funny and entertaining look at what life on the road is like for many modern-day comedians. Patton Oswalt has always been a favorite of mine, but I very much enjoy Brian Posehn, Maria Bamford and Zach Galifianikis as well. Maybe it's because I more closely identify with them and their "off-beat" personalities, this probably stems from the fact that I've been a proud "nerd" all my life. These are people who were brave enough to stand out by simply being themselves and not trying to fit into any category or alter their personalities in order to endear themselves to a wider audience. Brian and Patton are 40- year old comic book lovers, how could you not find that refreshing? Too many people take life much too seriously and spend most of it worrying about what everyone else thinks of them, these are INDIVIDUALS who could not care less about that. The comedy in this film is not always laugh-out-loud funny, but it is not forced. It's honest and unapologetic, which is what comedy is really all about. A great documentary, check it out
David Ladd
Super Reviewer
The Comedians of Comedy Quotes
There are no approved quotes yet for this movie.