Comfort of Strangers
(1997)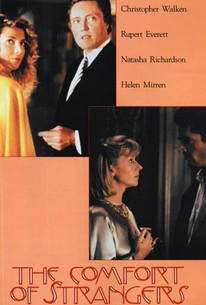 Movie Info
In this erotic thriller, a young English couple on vacation in Venice find themselves seduced by a mysterious older couple. Mary (Natasha Richardson) and Colin (Rupert Everett) have come to Italy to chart the future of their troubled relationship. They soon meet Robert (Christopher Walken), the enigmatic owner of a picturesque watering hole. He entertains them with copious vino and colorful stories of a childhood spent with a brutal, domineering father. Later, drunk and lost in the maze-like city, the couple once again encounter Robert, who puts them up at his gorgeous villa. They also meet his wife, Caroline (Helen Mirren), who suffers from crippling back pain and obvious emotional instability. Fascinated by the glamorous older couple but disturbed by their dysfunctions, Colin and Mary find themselves slowly drawn into sexual and emotional games that culminate in sudden violence. Directed by Paul Schrader, The Comfort of Strangers was adapted by playwright Harold Pinter from the novel by Ian McEwan. Richardson previously starred in Patty Hearst, Schrader's portrait of the newspaper heiress-turned-terrorist.
Critic Reviews for Comfort of Strangers
Audience Reviews for Comfort of Strangers
½
"The Comfort of Strangers" is hardly groundbreaking. In fact most of the film is so insignificant that without the intriguing ending the film would have simply floated away. Thankfully the acting is top notch (Natasha Richardson, Rupert Everett, Christopher Walken and Helen Mirren) are all well suited to the material. They are skilled actors who do well with Harold Pinter's dialogue. In fact, "The Comfort of Strangers" would make a good companion piece to Pinter's older screenplay "The Servant." This picture is rather easy to read, simply put it's about the death of beauty but it's competently made and has an interesting ending making it worth at least one viewing.
Steven Carrier
Super Reviewer
The synopsis of this film makes it sound much more interesting than it actually is. A bizarre story that just never seems to lift into anything remotely exciting, instead a slow, dull watch hoping for a glimpse of excitement, which never appears
Lady D'arbanville
Super Reviewer
½
A study of how a director can control performances, tone, editing and cinematography to create an overwhelming mood of menace.
Anthony Valletta
Super Reviewer
Comfort of Strangers Quotes
| | |
| --- | --- |
| Robert: | "My father, was a very big man.. and all his life, he wore a black mustache. When it was no longer black, he used a small brush, -- such as ladies use for their eyes. Mascara -- to keep it black. You could not speak, at the dinner table unless first spoken to by my father." |
| Robert: | My father, was a very big man.. and all his life, he wore a black mustache. When it was no longer black, he used a small brush, -- such as ladies use for their eyes. Mascara -- to keep it black. You could not speak, at the dinner table unless first spoken to by my father. |