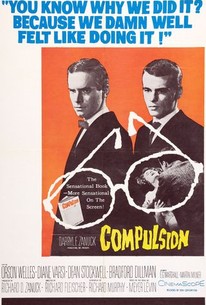 Compulsion
1959, Crime/Drama, 1h 43m
11 Reviews
1,000+ Ratings
Where to watch
Rent/buy
Rent/buy
Buy
Rate And Review
Movie Info
Sociopathic students Artie Straus (Bradford Dillman) and Judd Steiner (Dean Stockwell) murder a boy in a philosophical exercise to commit the flawless crime. Despite their precautions, one of them inadvertently left a key piece of evidence at the crime scene, and they have been arrested and put on trial. It's up to their nationally famous attorney (Orson Welles) to save these misguided souls from execution. The film is based on the infamous Leopold and Loeb case of 1924.
Audience Reviews for Compulsion
Based on the Leopold-Loeb case, Compulsion makes for an interesting watch. Surely, the story of two lads, with one being extremely influenced and misled by Nietzsche's philosophy, wanting to commit a perfect crime that ends up with the murder of a child is appealing in itself. But its execution can make a world of difference. The director succeeds extensively to create a compelling thriller sticking to the facts as closely as possible. However, there's an element missing that could have made it better than what it is; IDK exactly, maybe the lack of details about the victim and his family. Of course, the movie's about the awesome twosome, but a wee-bit footage to the victim wouldn't have harmed much. I didn't find Welles' speech against capital punishment that interesting, but his response to Artie's reaction on the verdict is indeed remarkable. I went for it hesitantly, thanks to IMDb message board, but without a hesitation I'd admit that I've no remorse over my decision. As far as I'm concerned, it's a great deal for 75+ minutes. Well, to each, their own.

Orson Welles was JUST fantastic, as expected, I guess. It reminded me a lot of In Cold Blood.

Excellent examination of the Loeb/Leopold case. Dillman is chilling in his utter contempt for all emotion and Stockwell is fine as his puppet but alll pale next to Welles who offers a wily and wise performance. It's a shame he didn't act in more films like this and Touch of Evil that were worthy of his talent.

Based on the 1924 case of Nathan Leopold Jr and Richard Loeb, two wealthy upper-crust college students who methodically planned the kidnapping and murder of a 14 yr old boy (Robert Franks). A solid, well acted docu-drama that, near the end, suffers from an over abundance of preachy thespianism. It's one thing to cast the legendary Orson Welles as a Clarence Darrow-ish defense attorney in an obviously anti death penalty message film, but it's awfully highhanded to let him rant incessantly about the barbarics of capital punishment. In effect, he's not a cast member with a script who is reciting monologue to a judge, he's an actor with an agenda speaking to us (the audience). A memorable but highly liberal classic.
See Details