Confessions of a Superhero
(2007)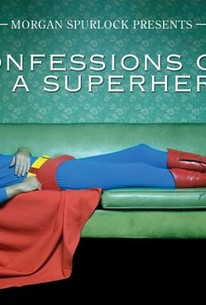 Confessions of a Superhero Photos
Movie Info
Four mere mortals adapt the personas of their favorite superhero characters, and filmmaker Matt Ogens chronicles the lives and ambitions of this curious quartet in a documentary that explores the allure of fame on the sidewalks of Hollywood Boulevard. Being a superhero isn't as easy as it appears in the flickering light of a darkened theater, but sometimes on the Walk of Fame it feels that anything is possible. Joe McQueen's journey began when he sold his Super Nintendo for a bus ticket to Hollywood and assumed the identity of The Incredible Hulk. Meanwhile, much like the character of Bruce Wayne, Maxwell Allen struggles with anger issues while assuming the guise of Gotham crime-fighter Batman. Now far from her former days as a Midwest beauty queen, Jennifer Gehrt walks the city streets dressed as whip-wielding do-gooder Wonder Woman. Some days, it seems that Christopher Dennis' every thought is consumed by how the character of Superman, whose cape he dons on a daily basis, would react to the chaos of Tinseltown. From mere fascination to all-consuming obsession, each one of these everyday superheroes are forced balance their own identities with the personas of the characters they portray as they struggle to achieve fame in a town where heroes are cheap, and stars come priced at a dime a dozen.
Critic Reviews for Confessions of a Superhero
Audience Reviews for Confessions of a Superhero
½
The message of this film is to never give up on your dreams (in the long run), but "Confessions of a Superhero" is a much deeper documentary than that, showing the ins and outs of the acting business and how well-off street performers actually may be. Some may appear to homeless, but if they are passionate enough about what they do, they will go to great lengths to make something of themselves. This film does a great job exploring all of these aspects and I highly enjoyed watching it. It definitely feels refreshing seeing what the lives of these people is truly like, after seeing them for so long on the street and making my own assumptions. Very well-edited and capturing the right amount of footage, there is hardly anything to complain about with this documentary. Definitely recommended!
"We do work for tips" I really didn't expect to like Confessions of a Superhero but the question of why anyone would want to dress up like a superhero and walk around a street really sucked me in. The film looks at four specific people. The characters they portray are Superman, Batman, The Hulk and Wonderwoman. All of them came to LA in order to try to be successful actors. None of them have quite made it, so they continue to walk the Boulevard, taking pictures with tourist for little to no money. The film is interesting, sad and funny. Each person has their own unique backstory which really make for an interesting documentary. The most interesting backstory is that of Superman. He claims to be the son of Sandy Dennis; a famous actress who won an Oscar for her supporting role in "Who's Afraid of Virginia Woolf." The controversy is that Sandy never told her family she had a son and the Dennis family claims he's not Sandy's son. Batman also has a unique story that is hard to believe, but hey you never know. He claims to be somewhat of a "gangster." Sort of in the area of The Godfather. The Hulks and Wonderwoman's backstories aren't quite as interesting, but they are the likable ones. Superman and Batman just came off as complete freaks. The Hulks story is pretty sad and Wonderwoman's story is pretty generic; young girl wants to be actress, so she moves to LA. When the movie is funny, it's also a little sad too. Most of the time it's funny when Superman is onscreen. This guy is completely immersed in Superman and it's a little sickening. Overall it's a very entertaining documentary. The hour and a half flew by and I was actually surprised when the credits started to roll. It felt like I just started watching.
Melvin White
Super Reviewer
½
It's just astounding. I really have no more to say. I live for documentaries that select intriguing people in situations so absurd that they could only be real. This is one such film.
_kelly .King
Super Reviewer
Confessions of a Superhero Quotes
There are no approved quotes yet for this movie.